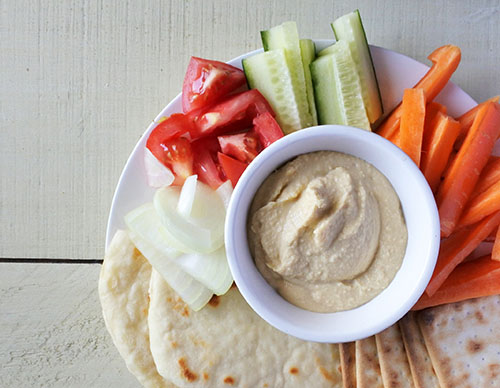 Hummus is a healthy, protein-filled and fibre-packed dip.  It is often bought at the grocery store but is easy and more cost effective to make yourself.  Serve it with some cut up vegetables and/or crackers for a nutritious afternoon snack.  This is a basic homemade recipe, so feel free to jazz it up with roasted red peppers, extra garlic, or any other toppings of choice.  If you make a large batch, it can be refrigerated for up to five days in the fridge.
Ingredients:
(Yields 6 servings)
1 can chickpeas, drained and rinsed (save the chickpea liquid)
3 tablespoon olive oil
1 tablespoon lemon juice
1 teaspoon tahini
Directions:
Add all the ingredients, except for the olive oil into a food processor or blender, and blend until well combined.
Drizzle in the olive oil and continue blending until desired consistency is reached.
Enjoy!
Note: Use the saved chickpea liquid to thin out the hummus if it's too thick.
Nutritional Information (per serving):
213 calories, 7mg sodium, 25g carbohydrates, 8g protein, 10g fat (1g saturated fat, 0g trans fat, 9g unsaturated fat), 4g sugar, 7g fibre
Recipe adapted from https://www.myfussyeater.com/child-friendly-hummus-with-crudites/ and approved by Emma Minden, Registered Dietitian, Wholesome Kids Catering