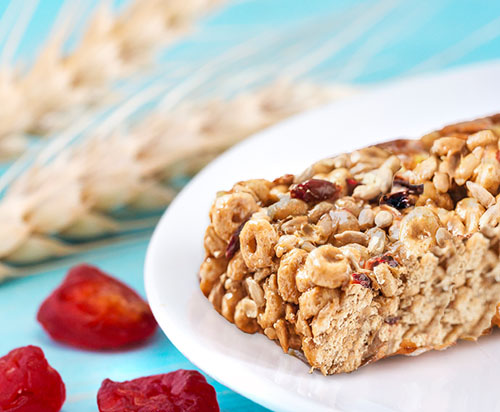 Cereal bars are a great breakfast option for those busy mornings.  This five ingredient, no-bake recipe is a great way to have your kids help you in the kitchen.  Let them pick out their favourite cereal, mix all the ingredients together and then cut them into fun shapes using cookie cutters.  The sunflower butter is nutrient dense and adds protein and healthy fat to the cereal, making it a delicious and healthy choice for a quick and easy breakfast.
Ingredients:
(Yields 12 servings)
4 cups multigrain cheerios or cereal of choice
½ cup dried fruit (cranberries, blueberries, raisins, etc.)
1 cup sunflower seeds

2/3 cup

 pure raw honey (a bit more if needed)

1/2

 – 

2/3

cup creamy sunflower butter (or substitute with any seed or nut butter)
Directions:
Lightly grease an 8-inch pan.
In a large bowl combine the cereal, dried fruit and sunflower seeds.
In a microwave safe bowl, heat the honey and sunflower butter until it's warm, smooth, and easy to mix.  Let cool for 3-5 minutes.
Add the honey and sunflower butter mix to the bowl and combine well until everything is coated.
Press mixture firmly into the prepared pan.
Cover and chill in refrigerator for a few hours before cutting into bars.
Nutritional Information (per serving):
314 calories, 55mg sodium, 23g carbohydrates, 8g protein, 24g fat (2g saturated fat, 0g trans fat, 22g unsaturated fat), 9g sugar, 4g fibre
Recipe adapted from https://www.chewoutloud.com/nut-free-gluten-free-cereal-protein-bars/ and approved by Emma Minden, Registered Dietitian, Wholesome Kids Catering