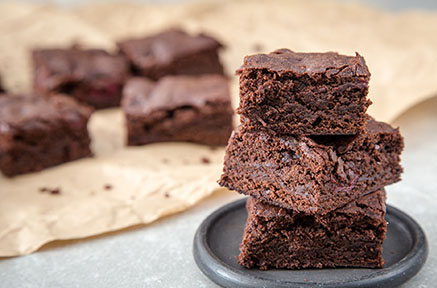 Brownies are a popular chocolate fudgy treat.  This recipe uses blended black beans which is a great way to get some additional fibre.  The recipe uses simple household ingredients and can be prepared and baked in just 35 minutes.  All the ingredients go into a blender, which also makes for an easy cleanup!
Ingredients:
(Yields 16 servings)
1 can of black beans (540 ml), drained and rinsed
3 large eggs
3 tablespoon vegetable oil
¼ cup cocoa powder
½ cup granulated sugar
1 teaspoon baking powder
1 teaspoon vanilla
Directions:
Preheat oven to 350°F.
Grease an 8-inch square baking pan with non-stick spray or oil.
Add all the ingredients into a blender and blend just until mixture is combined.
Pour batter into pan.
Bake for 25 minutes.
Let cool and enjoy!
Nutritional Information (per serving):
129 calories, 66mg sodium, 17g carbohydrates, 4g protein, 6g fat (4g saturated fat, 0g trans fat, 2g unsaturated fat), 10g sugar, 3g fibre
Recipe adapted from https://snack-girl.com/snack/black-bean-blender-brownies/ and approved by Emma Minden, Registered Dietitian, Wholesome Kids Catering