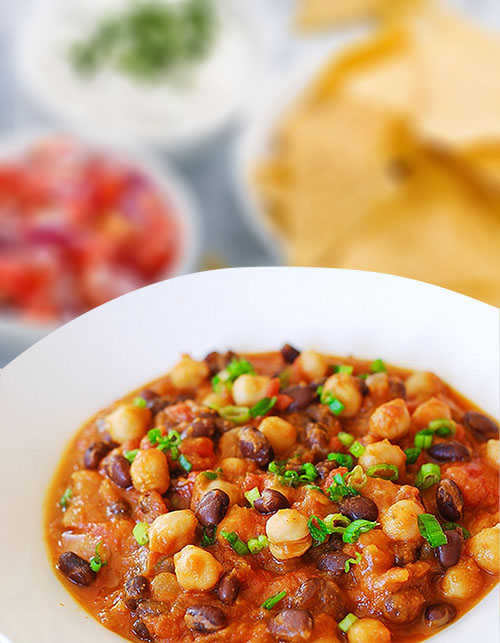 Chili is one of the easiest dishes to make, as you can substitute in any beans or vegetables that you have on hand.  Beans are a great source of fibre and protein which helps keep you and your kids feeling energized and full throughout the day.  You can eat chili warm topped with sour cream and shredded cheese, or wrapped in a whole wheat tortilla as a burrito.  Another easy option is to let your kids fill their own crispy taco shells with the chili and their favourite toppings of choice.
Ingredients:
(Yields 6 servings)
1 tablespoon olive oil
1 onion, chopped
1 celery stalk, chopped
1 bell pepper, chopped
1 zucchini, chopped
2 garlic cloves, chopped
2 teaspoon paprika
1 teaspoon cumin
1 tablespoon tomato paste
2 cans diced tomatoes (796 ml each)
1 ½ cups vegetable stock
1 can lentils, drained and rinsed
1 can kidney beans, drained and rinsed
Directions:
Heat oil in a large pot over medium heat.
Add the onion, celery, bell pepper and zucchini and saute for 5-7 minutes. Add the garlic and stir for an additional 2 minutes.
Add the paprika and cumin and stir for one minute.
Add the tomato paste, canned tomatoes and vegetable stock and bring to a boil.
Add the lentils, kidney beans and chickpeas and cover and continue cooking for 20 minutes (stirring occasionally).
Nutritional Information (per serving):
453 calories, 382mg sodium, 78g carbohydrates, 27g protein, 6g fat (1g saturated fat, 0g trans fat, 5g unsaturated fat), 16g sugar, 26g fibre
Recipe adapted from https://www.healthylittlefoodies.com/vegetarian-chilli-kids/ and approved by Emma Minden, Registered Dietitian, Wholesome Kids Catering