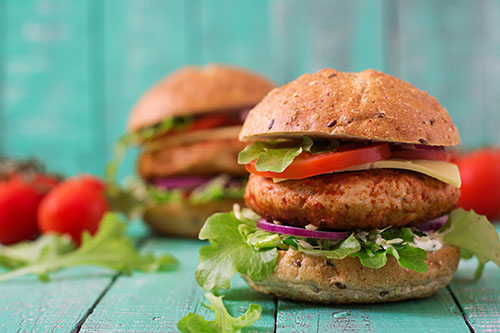 As the warmer weather approaches, barbecue season is just around the corner.  Here is an easy turkey burger recipe with few ingredients.  The burgers can be made ahead of time and stored in the freezer for up to one month before grilling.  Serve the burgers alongside the Greek yogurt tzatziki recipe below.  Enjoy it on a bun or try it in a whole wheat pita.
Ingredients:
(Yields 4 servings)
Turkey Burgers:
500g lean ground turkey meat
½ teaspoon dried thyme
1 lemon, zested
salt and pepper to taste
Tzatziki:
1 cup whole Greek yogurt
1 cucumber, finely chopped or grated
2 cloves garlic, minced
1 tablespoon lemon juice
1 tablespoon dried dill or 2 tablespoons fresh dill, chopped
Directions:
In a large bowl, combine the turkey meat, lemon zest and thyme.
Mix the ingredients together and then shape into patties.
Chill until ready to cook.
Grill the burgers on each side for about 6 minutes, or bake them in the oven at 400°F for about 20-25 minutes, until cooked through.
To make the tzatziki, simply mix all the ingredients together.
Store in the fridge and serve chilled.
Nutritional Information (per serving):
305 calories, 95mg sodium, 7g carbohydrates, 28g protein, 19g fat (6g saturated fat, 0g trans fat, 13g unsaturated fat), 4g sugar, 1g fibre
Recipe adapted from https://www.bbcgoodfood.com/recipes/turkey-burgers-beetroot-relish and https://www.foodnetwork.com/recipes/claire-robinson/easy-tzatziki-recipe-1924366 and approved by Emma Minden, Registered Dietitian, Wholesome Kids Catering