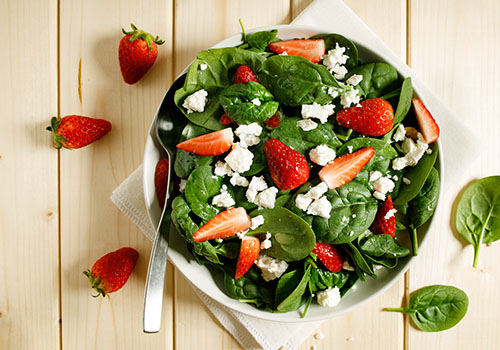 A side salad is a great way to add greens to any meal.  The sweet strawberries and dressing and the crunch from the poppyseed makes this salad very popular amongst kids.  The spinach and strawberries are packed with a great deal of nutrients, and are both great sources of vitamin C.  Serve it as a bigger portion and add an extra protein on top, such as chicken, beans or more feta to make it a complete meal on its own.
Ingredients:
(Yields 8 servings)
Salad:
10 ounces spinach
½ container strawberries, chopped
¾ cup feta cheese, crumbled
Dressing:
3 tablespoon olive oil
¼ cup balsamic vinegar
1 ½ tablespoon poppyseeds
1 ½ tablespoon maple syrup
½ teaspoon dijon mustard
½ teaspoon salt
Directions:
In a large bowl, combine the spinach, strawberries and feta.
In a separate small bowl, combine all the dressing ingredients and whisk until the dressing emulsifies.
Serve and enjoy!
Nutritional Information (per serving):
179 calories, 386mg sodium, 17g carbohydrates, 9g protein, 9g fat (3g saturated fat, 0g trans fat, 6g unsaturated fat), 6g sugar, 7g fibre
Recipe adapted from https://www.wellplated.com/spinach-strawberry-salad/ and approved by Emma Minden, Registered Dietitian, Wholesome Kids Catering