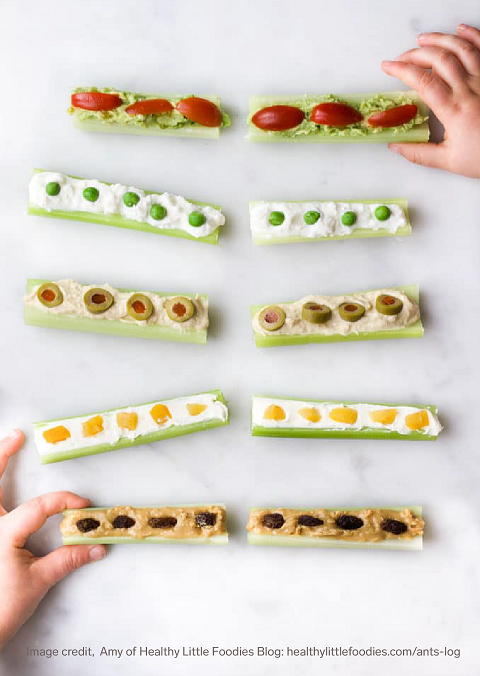 Ants on a log is a fun snack that you and your kids can make together. It's traditionally made using peanut butter but we have tried it out with a few new variations.  Let your kids mix and match the bases and toppings to create their own favourite version.
Ingredients:
2 celery sticks
2 Tbsp sunflower or soy butter
20 raisins
Other Base and Topping Ideas:
Cream cheese with peas
Mashed avocado with corn
Hummus with olives
Greek yogurt with blueberries
Tzatziki with cherry tomatoes
Directions:
Cut each celery stick in half.
Add the sunflower or soy butter into the concave part of each stick and spread.
Top with raisins "ants".
Nutritional Information (per serving):
230 calories, 15mg sodium, 16g carbohydrates, 6g protein, 18g fat (1.5g saturated fat, 0g trans fat, 16.5g unsaturated fat), 10g sugar, 2g fibre
Note: nutritional information for other bases and topping will vary.
Recipe adapted from https://www.healthylittlefoodies.com/ants-log/ and approved by Emma Minden, Registered Dietitian, Wholesome Kids Catering