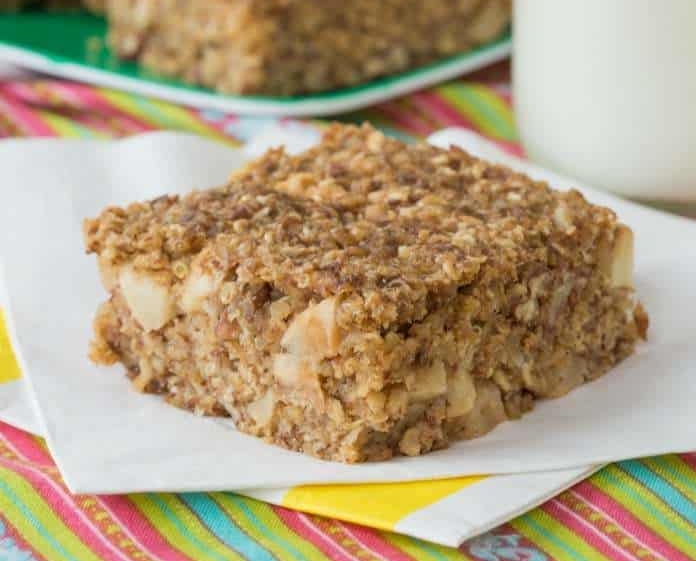 September can be a stressful time of year for most of us, especially for those who are preparing for the upcoming school year. School lunches are of primary concern for most parents because there is often a big difference between what kids want to eat and what is nutritious for them. Meal prepping can also be fairly time consuming, which can create obstacles for preparing home-made lunches as a result of our busy lifestyles. Cinnamon Apple Quinoa bars are a healthy snack at school or at home. This recipe is nutritious, easy-to-follow, requires minimal ingredients, and is great for kids to get involved with too!
Cinnamon Apple Quinoa Bars are great for on-the-go eating and a delicious alternative to cookies and granola bars. These bars are packed with protein and whole grains, which are great for keeping kids full and providing lots of energy!
Ingredients
1.5 cups quick cooking oats
1 cup cooked quinoa, cooled to room temperature
1 teaspoon baking powder
1/4 cup ground flax seeds
1 teaspoon cinnamon
1/2 cup maple syrup
1/2 cup unsweetened applesauce
1/3 cup egg whites
2 tablespoons butter or margarine (alternatives: nut butter, soy butter)
1 teaspoon vanilla
1 cup chopped apples
Optional 1/2 cup chopped pecans
Directions
Preheat your oven to 350°F. Line a 9×9 inch square baking pan with parchment paper and spray with nonstick cooking spray.
In a large bowl, combine the oats, quinoa, baking powder, flax seeds, and cinnamon and stir until evenly distributed.
In another bowl, whisk together the maple syrup, applesauce, egg whites, butter, and vanilla.
Pour the wet ingredients over the dry ingredients and stir until mixed thoroughly to form a thick batter.
Fold in the apples (and pecans, if using).
Pour the batter into the prepared pan and smooth with a spatula.
Bake on the center rack of the oven for 25 – 35 minutes until the bars are golden brown and firm to the touch.
Remove and cool completely in the pan. Slice into bars and store in an airtight container in the refrigerator for several days, or freeze to keep longer.