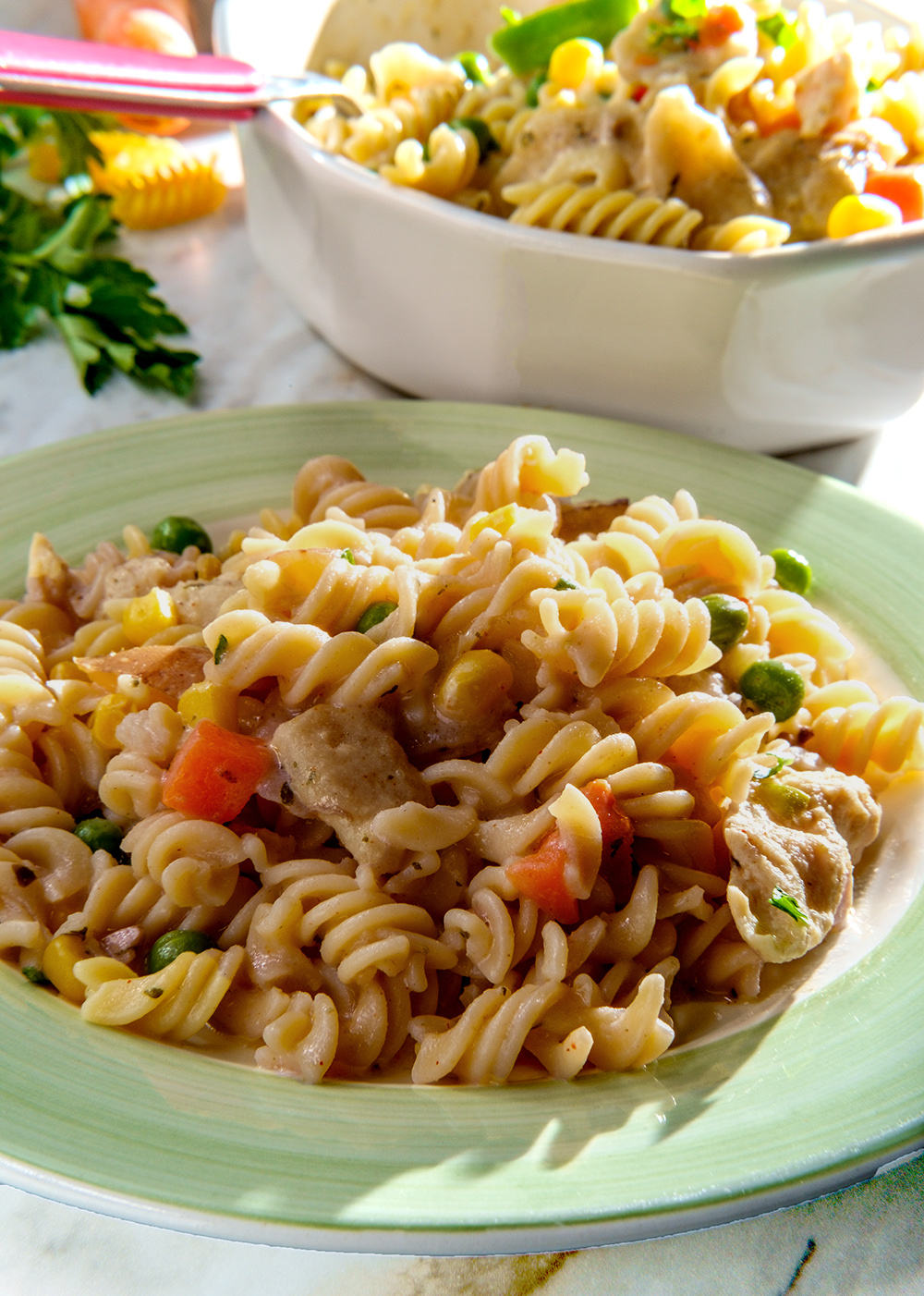 We get asked by parents all the time, can I get the recipe for X so I can make it at home, my LO loves it. As the Registered Dietitian for Wholesome Kids Catering, I love hearing this and I want to help make feeding at home simple and nutritious for growing bodies and minds just as I do for our child care centres.
I will be publishing a series of copycat recipes of some of our most beloved Wholesome Kids menu items that you can easily make at home, starting with our incredibly delicious Chicken Pot Pie Pasta. Kids love this creamy noodle lunch, packed with protein and vegetables like carrots, crunchy peas and sweet corn. We prefer to use whole grain noodles for extra fibre, protein and iron. We hope you and your family will enjoy this simple, wholesome and delicious pasta recipe.
Ingredients:
3 ⅓ cups pasta (preferably whole grain)
1 cup green beans, chopped
1 small yellow onion
1 stalk celery, diced
2 carrots, diced
¼ cup all-purpose flour
3 Tbsp unsalted butter
2 cups chicken broth (preferably low sodium)
2 cups diced cooked chicken
Salt and pepper
Directions:
Cook pasta according to box directions. Add the green beans in 3 minutes before pasta is done cooking.
In a large saucepan, melt the butter over medium heat. Add onion, celery and carrots and cook until onion is translucent, about 4 minutes.
Add the flour and stir for 1 minute.
Gradually add the broth, stirring constantly, then bring to a boil.
Reduce heat and simmer for 5 minutes.
Stir in chicken and season with salt and pepper to taste.
Stir in pasta and enjoy!
Nutritional Information (per serving):
380 calories, 90mg sodium, 51g carbohydrates, 24g protein, 10g fat (4g saturated fat, 0.2g trans fat, 5.8g unsaturated fat), 4g sugar, 8g fibre
Recipe adapted from here and approved by me, Emma Minden, Registered Dietitian, Wholesome Kids Catering