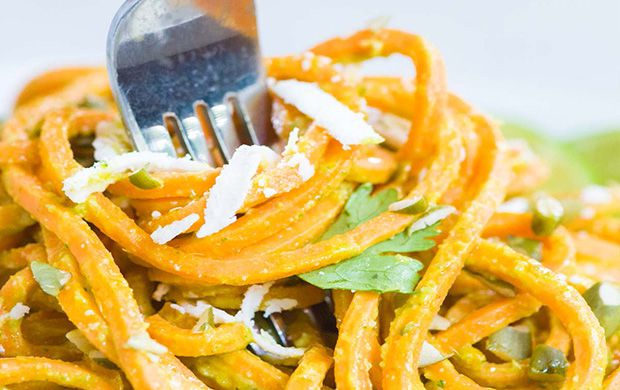 Undeniably fun to eat, spiralized foods can be a great way to increase a child's intake of fruits and vegetables. Children will love to watch a vegetable turn magically into noodles. This spiralized veggie pasta is full of flavour and nutrients for the whole family.
Ingredients:
2 medium sweet potatoes, peeled, ends cut 2 tablespoons of olive oil 1/4 teaspoon sea salt 1/2 a lime 1/2 cup creamy avocado sauce 1 ripe medium avocado, mashed 1/4 cup lime juice from 1­2 limes 2 tablespoons olive oil 1/2 cup water A Pinch of salt
How to Put it all Together!
Peel potatoes, cut off the ends, and spiralize to make "noodles"
Heat olive oil in a wide, non­stick pan over medium heat
Add sweet potato noodles to pan and sauté for about 5­-7 minutes, tossing gently throughout
Add sea salt and lime juice, and continue tossing the noodles as they cook
Add noodles to a bowl and mix in creamy avocado sauce, toss to combine evenly
Option to garnish with chopped fresh cilantro.