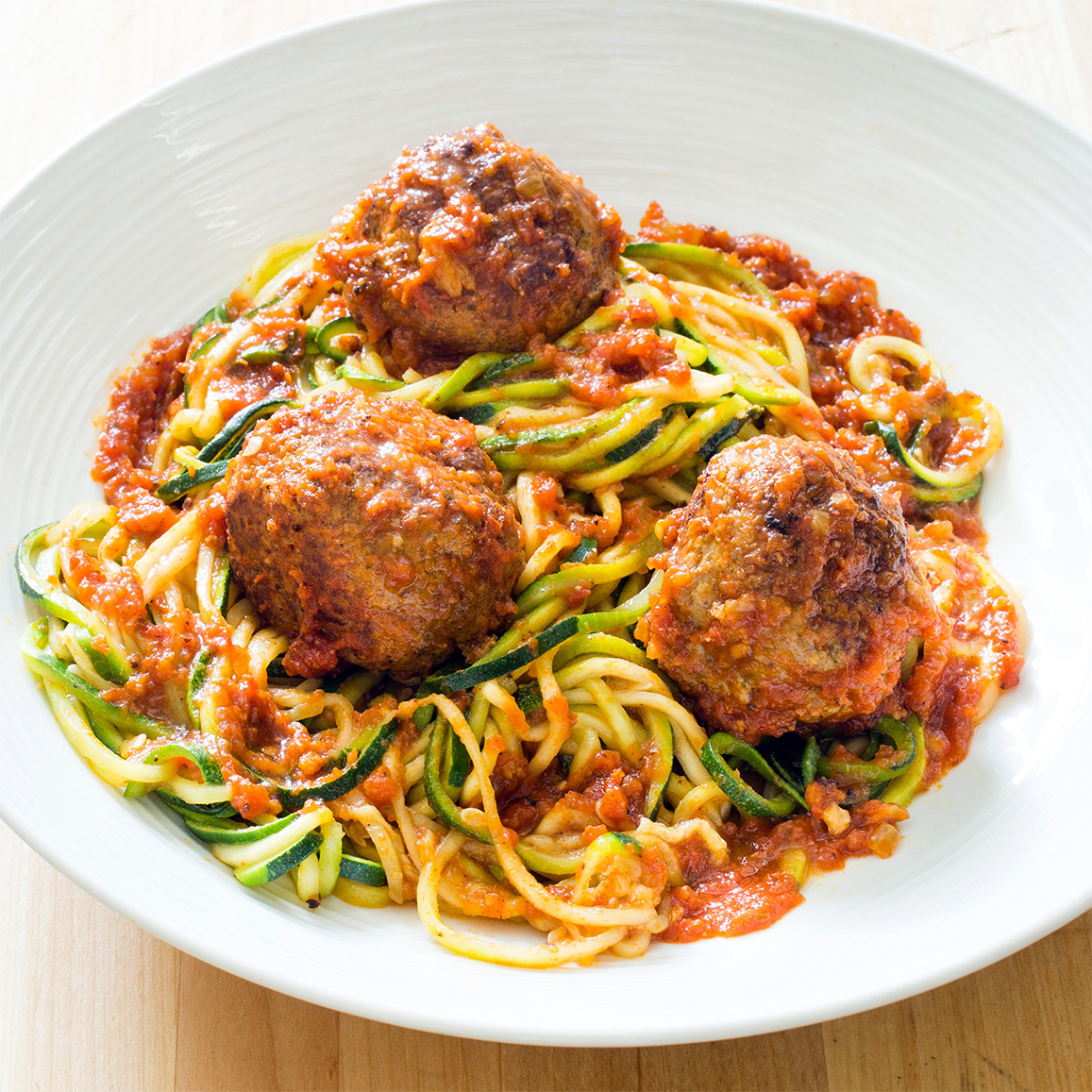 Zucchini Noodles are a super fun, easy vegetable that is lightly seasoned and works as a noodle replacement.  They are kid-approved, easy to prep and quick to cook.
Zucchini Noodles with Meatballs and Tomato Sauce (6 Servings)
Ingredients
Meatballs:
¾ pounds ground Turkey
½ pound extra lean ground beef
¼ cup grated Parmesan cheese
1 tsp Italian seasoning
1 large egg
1 medium white onion, chopped
2 cloves of garlic, minced
2 tbsp fresh curly parsley, chopped
salt and pepper to taste
2-3 tbsp vegetable oil
Tomato Sauce:
1 glass jar of strained tomatoes (approx 660-680 ml)
1 medium onion, chopped
4-5 cloves of garlic, minced
2 tsp dried oregano
2 tsp dried parsley
2 dried bay leaves
1 rsp dried basil
1 tsp paprika
1 tsp cayenne pepper or chili flakes
salt and pepper to taste
3 tbsp extra virgin olive oil
Zucchini Noodles:
5-6 medium-sized zucchinis, to be spiralized (you can also purchase pre-spiralized zucchini noodles at your local grocery store)
2 tbsp vegetable oil
Directions
Preheat oven to 415 F.
To make the meatballs, combine turkey, beef, parmesan, Italian seasoning, egg, onion, garlic, bread crumbs, parsley and salt and pepper in a large bowl. Mix until combined.
Use your hands to form into 1.5 inch meatballs .
Place the meatballs on a large baking sheet lined with parchment or wax paper.
Bake the meatballs in the oven for about 20-25 mins
To make the tomato sauce, heat extra virgin olive oil in a large sauce pan on medium heat. Add the chopped onion and sauté for about 15-20 mins.
Add the minced garlic when the onions have almost finished caramelizing and sauté for another 1-2 mins.
Add the strained tomatoes and let the sauce simmer for about 5 mins.
Add the dried basil, parsley, oregano, bay leaves, paprika, cayenne pepper or chili flakes and salt and pepper
Let the sauce simmer for another 15 mins.
In a separate skillet, begin to heat the spiralized noodles with oil over medium heat. Let the noodles sauté for about 10 mins. Strain any excess water from the skillet after the zucchini noodles have finished cooking.
Add the tomato sauce and the meatballs to the zucchini noodles.
Enjoy!
Nutritional Information (per serving):
403 calories, 158mg sodium, 14g carbohydrates, 22g protein, 30g fat (14g saturated fat, 0.5g trans fat, 15.5g unsaturated fat), 6g sugar, 3g fibre
This recipe was curated and approved by Emma Minden, Registered Dietitian, Wholesome Kids Catering.