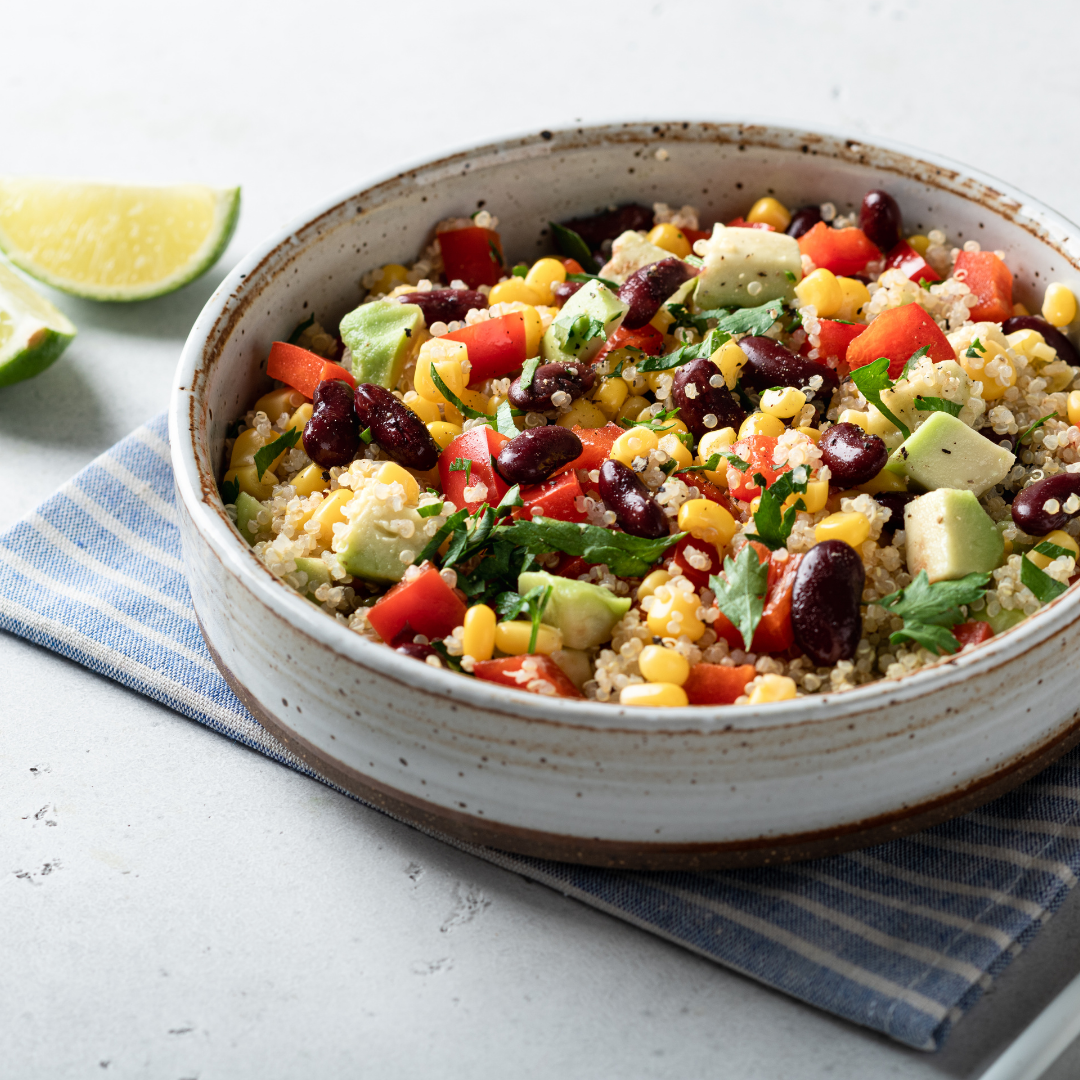 Superfoods are defined as "a food (such as salmon, broccoli, or blueberries) that is rich in compounds (such as antioxidants, fibre, or fatty acids) considered beneficial to a person's health".  This simple superfood smoothie includes quinoa, black beans, tomatoes and olive oil.  Check out the article on superfoods to find out what benefit these ingredients provide.
Southwest Quinoa Salad
Ingredients:
(Yields 6 servings)
1 cup dry quinoa
2 cups water
1 can reduced sodium black beans
1 can reduced sodium whole kernel corn
1 orange bell pepper, chopped
½ pint grape tomatoes, sliced
1 cup scallions, sliced
1 cup cilantro, chopped
¼ cup olive oil
1 lime, juiced
1 tsp black pepper
2 tsp garlic powder
1 Tbsp chili powder
Directions:
Cook quinoa according to package directions. Once quinoa is completely cooked, fluff with a fork and set aside.
Drain the black beans and corn, rinse thoroughly with cold water and place in a large bowl.
Add the pepper, tomatoes, scallions and cilantro.
In a small bowl whisk together the olive oil, lime juice, black pepper, garlic powder and chili powder.
Pour the dressing over the salad and toss well.
Mix in the cooled quinoa.
Refrigerate, serve cold and enjoy!
Nutritional Information (per serving):
330 calories, 180mg sodium, 49g carbohydrates, 12g protein, 12g fat (1.5g saturated fat, 0g trans fat, 10.5g unsaturated fat), 5g sugar, 12g fibre
Recipe adapted from Your Modern Family and approved by Emma Minden, Registered Dietitian, Wholesome Kids Catering