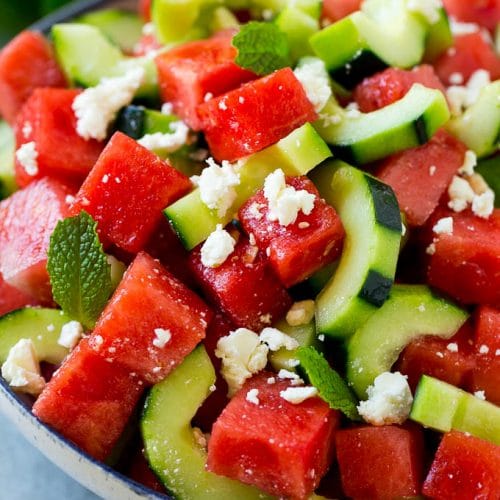 This easy and refreshing summer salad is a perfect complement to your BBQ spread. Watermelon and cucumber are made up of over 90% water which helps quench your thirst on hot summer days. Fruits are a healthier choice for kids compared to sugary drinks as hydrating options like watermelon and cucumber quench thirst on a hot summer day without the unhealthy effects of added sugar. Choosing fruit promotes better hydration and overall well-being for kids.
Yield: 6 Servings
Ingredients
3 Cups Watermelon, Cubed or Balled
1 ½ Cups Sliced Cucumber
2 Tbsp Mint, Thinly Sliced
3 Tbsp Olive Oil
1 Tbsp Lime Juice
1/3 Cup Feta Cheese, Crumbled
Salt and Pepper to Taste
Instructions
Place watermelon, cucumber, and mint in a large bowl.
In a small bowl, whisk together the olive oil and lime juice.
Drizzle the dressing over the melon mixture and toss to coat.
Sprinkle with feta cheese and season with salt and pepper.
Nutritional Information (per serving)
110 calories, 8g carbohydrates (1g fibre, 6g sugar), 2g protein, 9g fat (2g saturated, 0g trans, 7g unsaturated), 156mg sodium
Recipe adapted from Dinner at the Zoo and approved by Chloe Cheng, Registered Dietitian, Wholesome Kids Catering.