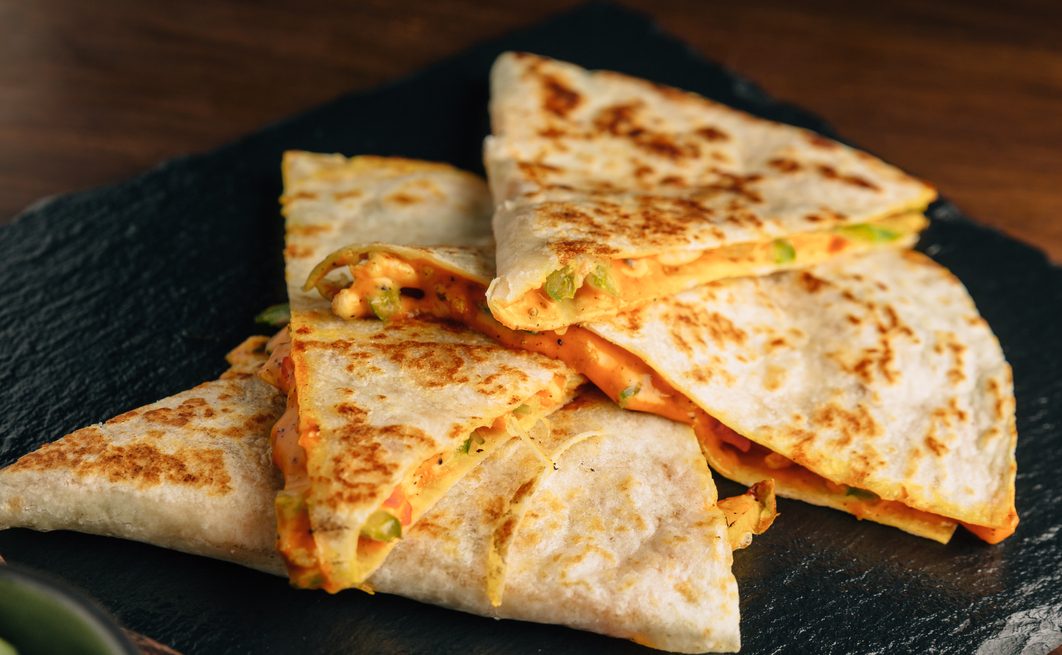 Quesadillas are a quick and easy meal option. This recipe is very versatile and can be enjoyed with a variety of options for toppings.  Add your favourite pizza toppings, such as peppers, mushrooms, olives or even pineapple. For lunches on the go, make a cheese/vegetable quesadilla and pack it with a side of marinara or pesto sauce for dipping.
Vegetarian Pizza Quesadillas (4 servings)
Ingredients 
Marinara Sauce:
1 large can whole tomatoes
1 onion, chopped
1 clove garlic, chopped
2 Tbsp olive oil
1 tsp dried oregano
Salt and pepper to taste
Quesadilla:
4 whole wheat tortillas
½ cup marinara or ¼ pesto sauce
1 cup mozzarella cheese, shredded
Your favourite pizza toppings!
Directions
Marinara Sauce:
Combine the tomatoes (with their juices), onion, garlic, olive oil and oregano in a saucepan over medium heat.
Bring the sauce to a simmer and then lower the heat and let the sauce cook for 45 minutes, stirring occasionally.
Using a wooden spoon or spatula, crush the tomatoes against the side of the pot.
Add salt and pepper to taste.
Quesadilla:
Preheat a skillet over medium heat.
Spread the sauce over half the tortilla. Sprinkle with shredded cheese.  Add any additional toppings and then sprinkle another layer of shredded cheese.
Fold the tortilla over.
Cook in the skillet for 2-3 minutes per side, or until the tortilla is browned and the cheese has melted.
Cut into triangles and enjoy!
Quesadilla with Marinara Sauce Nutritional Information (per serving):
200 calories, 330mg sodium, 20g carbohydrates, 10g protein, 10g fat (5g saturated fat, 0g trans fat, 5g unsaturated fat), 1g sugar, 3g fibre
Recipe adapted from: Cookie+Kate, The Seasoned Mom, Fountain Avenue Kitchen, and approved by Emma Minden, Registered Dietitian, Wholesome Kids Catering.