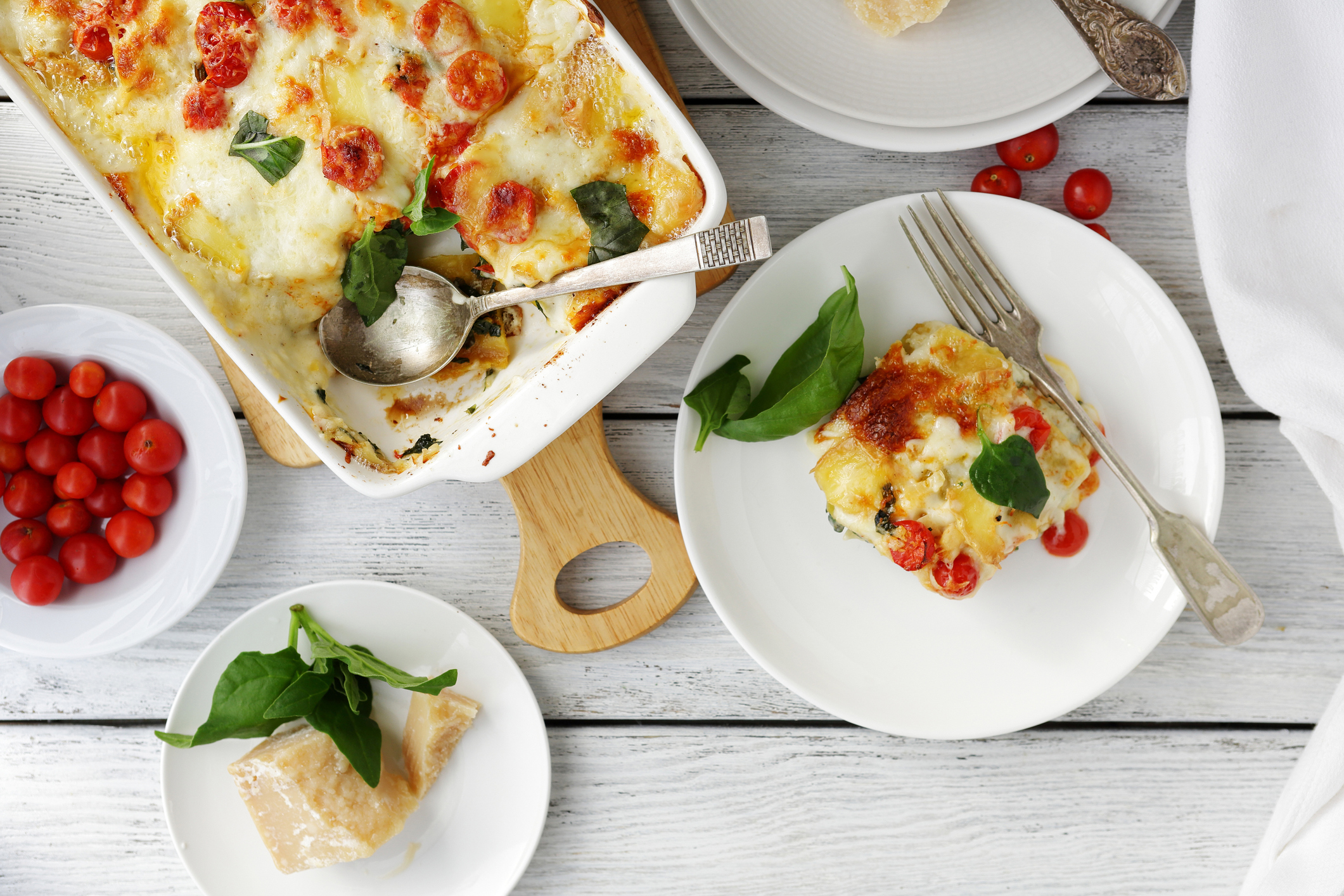 This is not your typical vegetable lasagna recipe.  This "crazy" lasagna is great for using up leftover vegetables before they go bad.  The vegetables listed below are only suggestions, so feel free to use whatever you have (fresh, canned, or frozen).
Great for meal prepping ahead of time!  This recipe is easy to prepare and can even be made up to two days in advance and stored in the refrigerator until you are ready to bake it.
If you don't have lasagna noodles, no problem! Call it a baked pasta casserole and use whatever noodles you have.
Ingredients:
6 medium tomatoes, seeded and quartered
1 large eggplant, chopped
2 zucchinis, chopped
5 mushrooms, sliced
2 red peppers, chopped
1 large onion, chopped
2 tablespoon olive oil
2 heads garlic
1 package lasagna noodles, broken up (whole wheat or regular)
2 cups pureed tomatoes or tomato sauce
1 cup light ricotta cheese
¼ cup basil or parsley
½ tsp dried oregano
1 cup mozzarella cheese, shredded
2 tablespoon parmesan cheese, grated
Yield:  8 Servings
Directions:
Preheat the oven to 400°F.

Arrange tomatoes, eggplants, zucchini, mushrooms, peppers and onion on two baking sheets lined with parchment paper.

Cut off the top of the garlic heads. Wrap the garlic in foil and place on one of the baking sheets.

Cook the broken-up lasagna noodles in boiling water until tender (follow box directions), and then drain and rinse under cold water.

In a large bowl, combine noodles with all the roasted vegetables. Squeeze in garlic.  Add pureed tomatoes, ricotta, basil/parsley, oregano and mozzarella.  Add salt and pepper to taste.

Lower oven temperature to 350 °F.

Transfer mixture to a large oven safe dish. Sprinkle with parmesan cheese.  Cover with tinfoil and bake for 30 minutes.  Uncover and bake for an additional 20-30 minutes until the top is lightly browned and crispy.
Nutritional Information (per serving): 321 calories, 154mg sodium, 55g carbohydrates, 18g protein, 7g fat (3g saturated fat, 0g trans fat, 4g unsaturated fat), 12g sugar, 10g fibre
Recipe adapted from Bonnie Stern's Heartsmart Cooking for Family and Friends and approved by Emma Minden, Registered Dietitian, Wholesome Kids Catering.