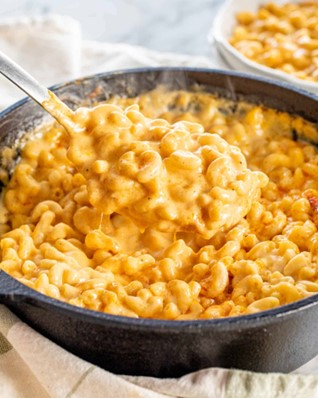 To celebrate World Vegan Day on November 1st, we are putting a spin on the beloved childhood classic – Mac and Cheese! This comforting staple is commonly found on many kids' menus in both restaurants and households. Preparing this "cheese" sauce with silken tofu not only makes it super creamy but also boosts its protein content. The red bell pepper gives it a vibrant orange colour and adds a touch of natural sweetness.  Whether you are a dedicated vegan or just curious, why not join the plant-based party and dig into some vegan Mac and Cheese?
Yield: 8 Servings
Ingredients
1 (16 oz package) Macaroni
1 (12.3 oz block) Silken Tofu
1 Medium Onion, Diced
1 Medium Red Bell Pepper, Diced
3 Cloves Garlic, Minced
3 Tbsp Olive Oil
4 Tbsp Nutritional Yeast
1 Tbsp Lemon Juice
1 Tsp Yellow Mustard
1 ¾ Cup Pasta Water
1 Tsp of Salt
¼ Tsp Pepper
⅛ Turmeric
Fun Fact: Nutritional yeast is a great source of B vitamins, especially vitamin B12, an essential nutrient found only in animal products. Beyond its nutritional benefits, it is often used to add an umami and cheesy flavour to vegan dishes.
Instructions
Cook your pasta according to package directions. Reserve 1 ¾ Cups of the pasta water and set drained pasta aside.
In a pan, heat olive oil over low heat and saute onion and red bell pepper until softened. Add garlic and cook for another minute.
Cut open the package of silken tofu and drain off any excess water. Add the tofu and the sauteed vegetables, nutritional yeast, lemon juice, mustard, salt, and pepper to a blender.
Add 1 cup of pasta water to the blender and blend until smooth. Add an additional ¾ cup of pasta water and blend again until very smooth.
Return the cooked pasta to the frying pan used to saute the vegetables and pour the tofu "cheese" sauce over the macaroni.
Mix well and warm over low heat.
Nutritional Information (per serving)
298 calories, 46g carbohydrates (3g fibre, 3g sugar), 11g protein, 7g fat (1g saturated, 0g trans, 6g unsaturated), 301mg sodium
Recipe adapted from The Hidden Veggies and approved by Chloe Cheng, Registered Dietitian, Wholesome Kids Catering.