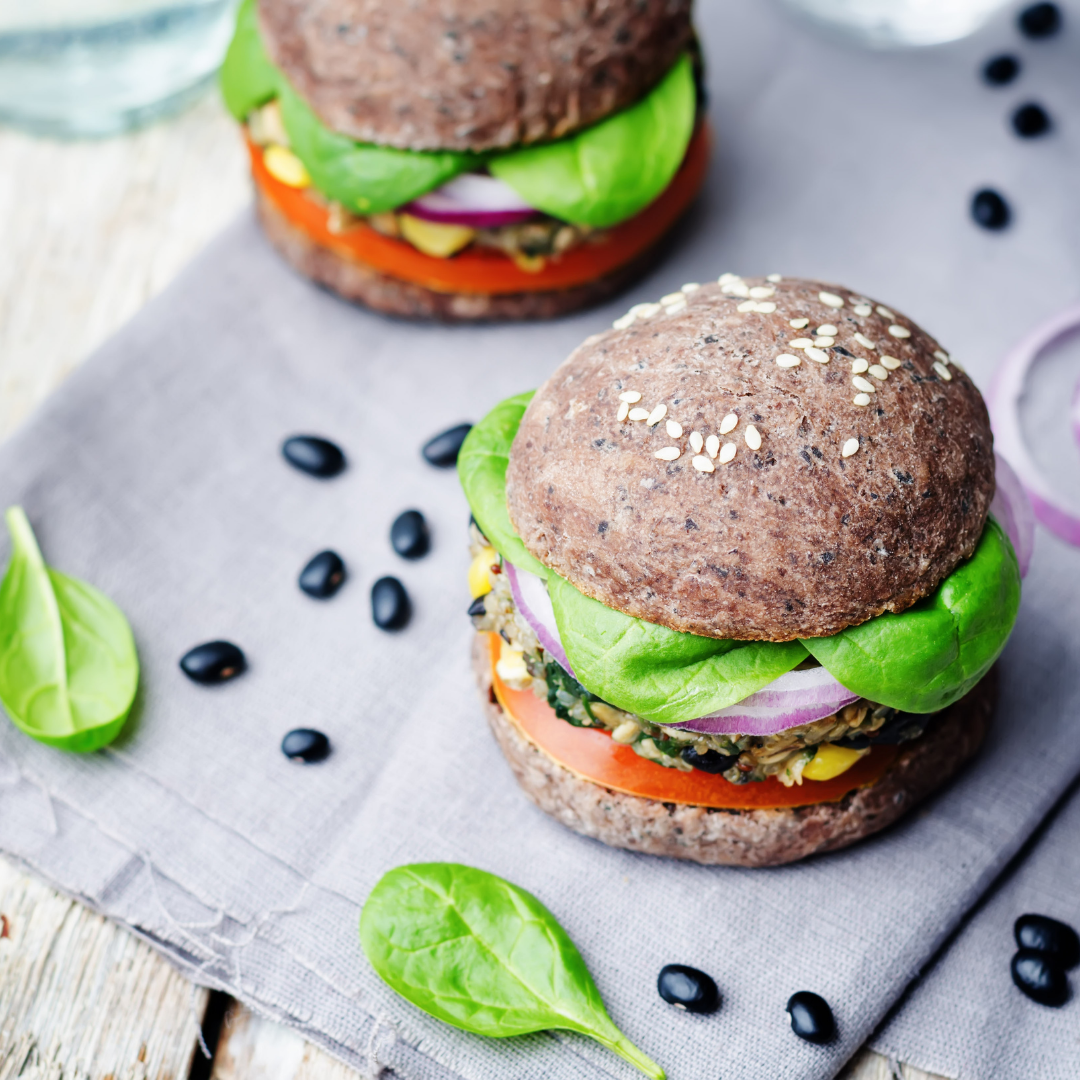 Following a vegan diet means avoiding all animal products, including meat, poultry, fish, dairy, eggs etc.  Many vegans also avoid products that are made from animals, such as honey.  Eating strictly vegan can feel overwhelming and/or restrictive for some, however, simply choosing plant-based protein foods more often can contribute to overall positive heath.  I've included a recipe for a kids' classic favourite dish, a burger, in a plant-based version.
Butternut Black Bean Burger
Ingredients:
(Yields 4 servings)
1 Tbsp ground flaxseed
1 cup black beans, mashed
1 cup cooked butternut squash, mashed/pureed
⅓ cup onion, diced
⅓ cup celery, diced
2 cloves garlic, minced
1 Tbsp olive oil
¾ tsp Italian seasoning
½ tsp garlic powder
½ tsp dried or fresh parsley
¼ tsp salt
⅛ tsp cayenne pepper
1 ½ cups rolled oats
Directions:
Whisk together the ground flax with 3 Tbsp water and put in the fridge to set.
In a large bowl, combine the black beans and butternut squash.
In a pan over medium heat sauté the onion, celery and garlic in olive oil until soft.
Season the vegetables with the Italian seasons, salt, cayenne pepper, garlic powder, parley and stir to coat.
Combine your flax mixture and vegetables into the bowl with the bean mixture.
Stir until incorporated and then roll into four balls.
Press into burger shapes and refrigerate for at least 15 minutes (this helps them keep their shape).
When ready to eat, heat oil in a pan and cook on each side until the inside is warm and the outside has a golden crust.
Grab a bun, add your toppings of choice and enjoy!
Nutritional Information (per serving):
240 calories, 160mg sodium, 39g carbohydrates, 9g protein, 6g fat (1g saturated fat, 0.4g trans fat, 4.6g unsaturated fat), 2g sugar, 9g fibre
Recipe adapted from Peas and Crayons and approved by Emma Minden, Registered Dietitian, Wholesome Kids Catering