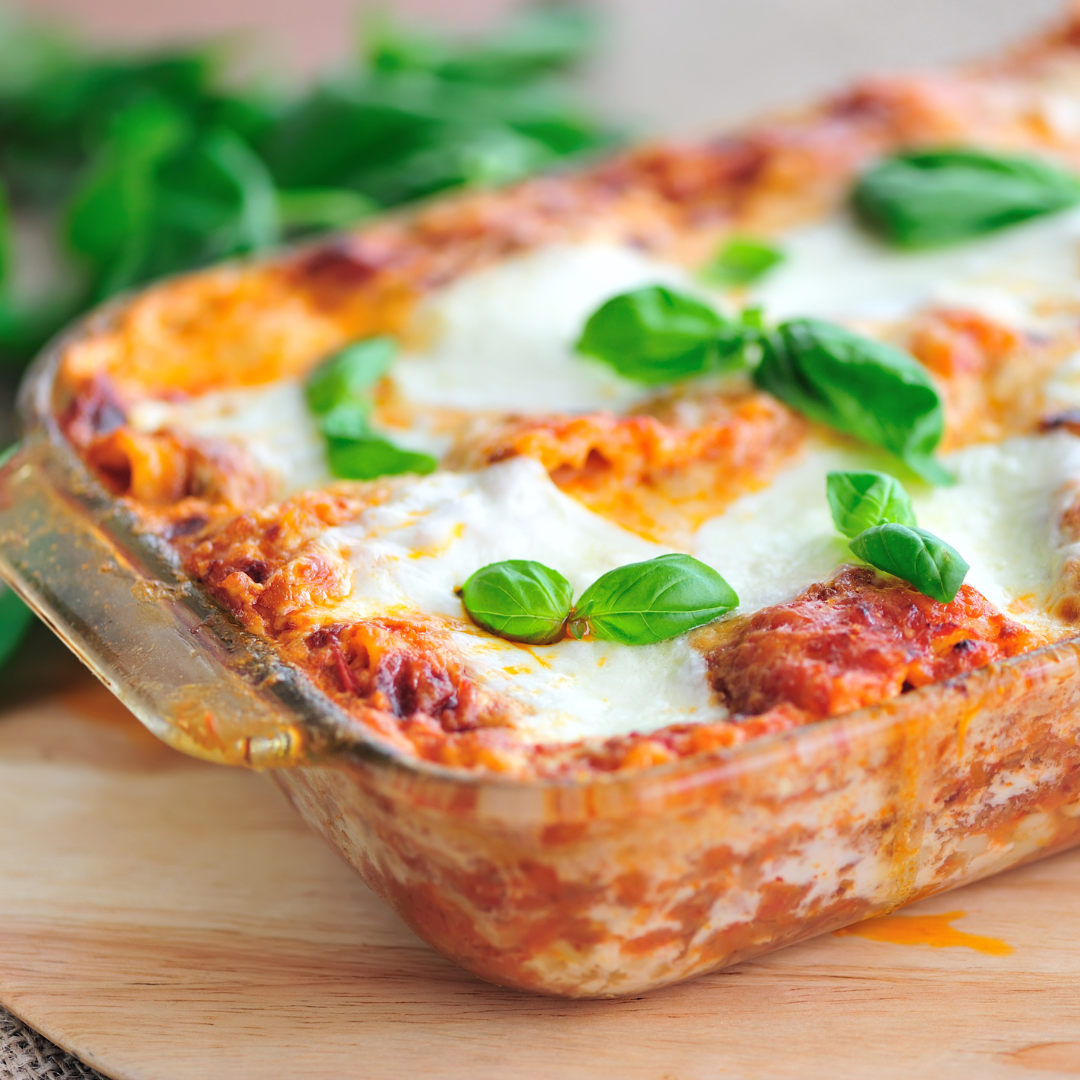 We are featuring this Turkey Lasagna #WholesomeAtHome copycat recipe to highlight our nutritious lunches for back to school. Lasagna is absolutely one of our kids' favorites. Compare to a classic lasagna made with ground beef, this recipe is made with ground turkey.
Fun Fact – Turkey contains less saturated fat than beef, which can be a great alternative!
This recipe is easy to make and kids LOVE it! You can divide it into serving portions and freeze them for another time. Pair it with a salad on the side or add your children's favorite vegetables into the sauce to turn it into a well-balanced meal. We hope you and your family enjoy this lasagna with #WholesomeAtHome.
Yield: 4 servings
Ingredients
240g Mafalda Pasta (preferably whole grain)
1 ½ Tbsp Vegetable Oil
320g Ground Turkey
1 ¼ Cup Tomato Sauce
2 ½ Tbsp Tomato Paste
¼ Cup Canned Diced Tomato (preferably no salt added)
1 Tbsp Cornstarch
¾ Cup Water
⅛ Tsp Dried Basil
½ Tsp Garlic Powder
¼ Cup Shredded Mozzarella Cheese
Salt and Pepper to Taste
Directions
Preheat the oven to 375 degrees F (190 degrees C).
Cook pasta according to box directions. Drain the pasta and set aside.
In a large saucepan, add vegetable oil and brown ground turkey over medium heat until no pink remains. Drain the fat.
Stir in tomato sauce, tomato paste and diced tomato. Simmer for 5 minutes. Stir occasionally.
Prepare the cornstarch slurry by mixing cornstarch with water. Pour it into the sauce.
Add dried basil and garlic powder. Season with salt and pepper.
Return the cooked pasta to the sauce. Stir to combine.
Transfer mixture into a baking dish. Sprinkle mozzarella cheese on top.
Bake in preheated oven for 25 minutes or until the top turns golden brown.
Nutritional Information (per serving)
482 calories, 58g carbohydrates, 27g protein, 16g fat (4g saturated, 0g trans, 12g unsaturated), 7g sugar, 541mg sodium, 4g fibre
Recipe created by Wholesome Kids Catering Red Seal Chefs and approved Chloe Cheng, Registered Dietitian, Wholesome Kids Catering