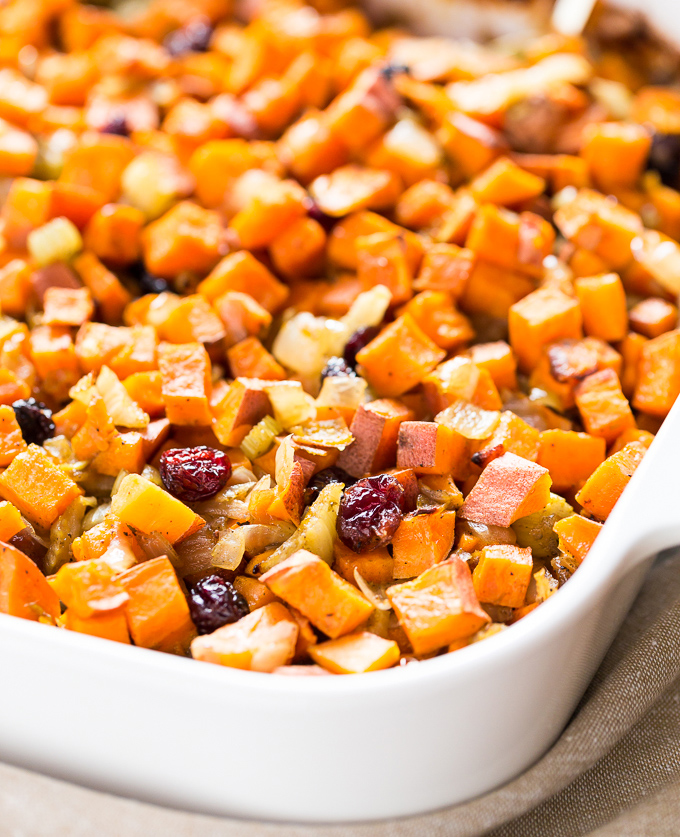 The holidays are a wonderful and exciting time of year that bring together all of our favourite things – delicious food, friends, family and fun! Of course, all of this celebration comes with a lot of work and food preparation. So, in the interest of keeping things simple, delicious and healthy, we have adapted an easy to make recipe for you.
This tasty alternative to traditional bread-based stuffing is packed with flavour and nutrients! It is sure to be a huge hit with your guests and even the kids, thanks to the rich sweet flavour of the sweet potatoes and dried cranberries.
Sweet Potato Stuffing (serves 8-10)
Ingredients
2 large (8 to 10 ounces) sweet potatoes, peeled and cut into ½-inch cubes
3 tbsp olive oil (divided)
1 cup diced yellow onion
1 cup diced carrots
1 cup diced celery
2 tbsp garlic, minced
½ cup vegetable stock
2 large pears, peeled and diced
1 cup dried cranberries
1 ½ cups unsalted pecans, roughly chopped
Herbs: ¼ cups dried parsley, ¼ cup dried sage, ¼ cup dried thyme, ¼ dried rosemary
Spices: 1 tsp ground cumin, 1 tsp paprika, 1 tsp chili powder (optional), salt & pepper to taste
Directions
Add the diced onion, carrot, celery & sweet potato cubes to a hot skillet with 2 tbsp of olive oil. Sauté for about 15 mins.
Add the garlic and pears. Sauté for another 5 mins.
Season with paprika, cumin, chili powder (optional), salt and pepper (to taste) and the herbs (sage, thyme, rosemary & parsley).
Preheat the oven to 350F. Grease a 9×13-inch baking dish with the remaining 1 tbsp of olive oil.
Add the vegetable stock and dried cranberries to the skillet. Mix everything together one last time, remove from heat, pour the mixture into the baking dish and spread into an even layer.
Bake the stuffing for 20 minutes, uncovered.
While the stuffing cooks, roughly chop the pecans. Alternatively, you can use a food processor and pulse them.
After 20 mins, remove the stuffing from the oven and scatter the pecan crumble evenly over the top. Bake for another 20 mins, uncovered. The top should be toasted and smell very fragrant.
Enjoy!
Nutritional Information (per serving):
280 calories, 422mg sodium, 34g carbohydrates, 2.9g protein, 16.5 fat (1.8g saturated fat, 0g trans fat, 14.7g unsaturated fat), 19.9g sugar, 7.4g fibre