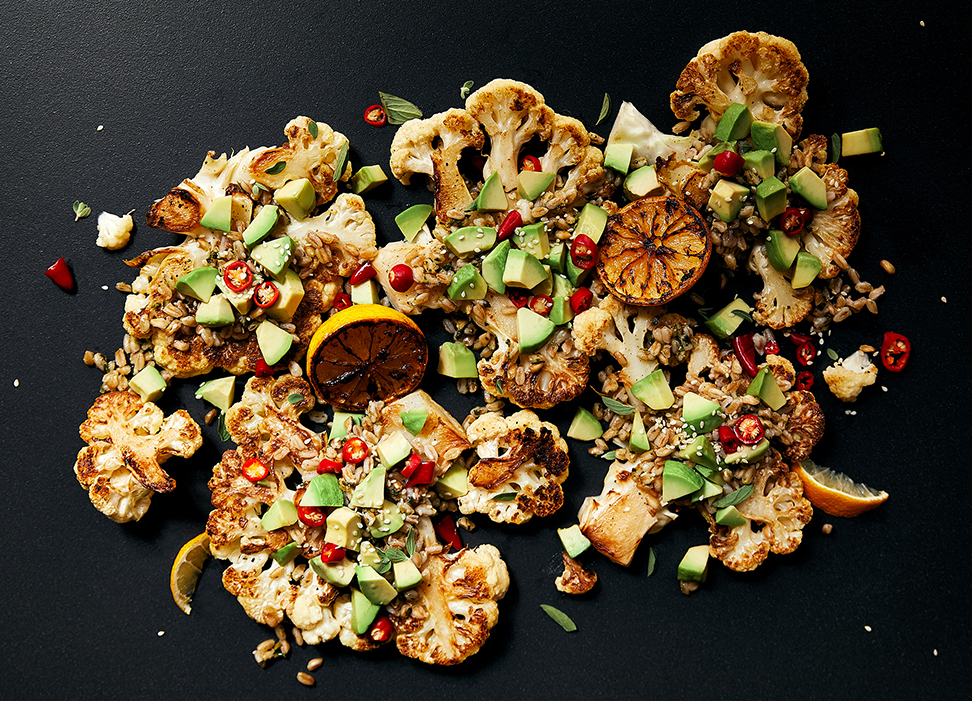 Eating is more than a physical act; it can be "soul satisfying" when we really take the time to pay attention to the different smells, colours, textures and tastes of our food. Slow down your eating and explore this nutritious recipe. With the scent of cumin, the freshness of the avocado and the crunch of farro, this salad is an explosion of flavours for all of our senses.
Roasted Cauliflower, Farro & Avocado Salad (4 servings)
Ingredients 
1 cup farro  (250 ml)
2 tbsp olive oil  (30 ml)
1/2 lemon -lemon juice
1 minced clove of garlic
1 tbsp cumin seeds (5 ml)
1 cauliflower, cut into 1-inch slices
1 avocado, cubed 1
1 chili pepper, sliced 1
2 tbsp of chopped fresh coriander (10 ml)
2 tbsp toasted sesame seeds (10 ml)
Directions 
Oven temperature: 200°C/400°F.
Cook the farro according to the manufacturer's instructions. Set aside.
In a large bowl, mix the olive oil with the lemon juice, garlic and cumin.
Add the cauliflower slices and toss them in the mixture. Season with
salt and pepper.
Lay the slices of cauliflower on an oven-safe baking sheet covered
with parchment paper and cook in the centre of the oven for 20 to 25
minutes, until slices are golden brown.
Serve the slices of cauliflower with farro, cubed avocado, slices of
chili pepper, coriander and sesame seeds. Drizzle with olive oil and
lemon juice.
Enjoy!
Recipe adapted and approved by Dietitians of Canada, Nutrition Month recipe e-book.