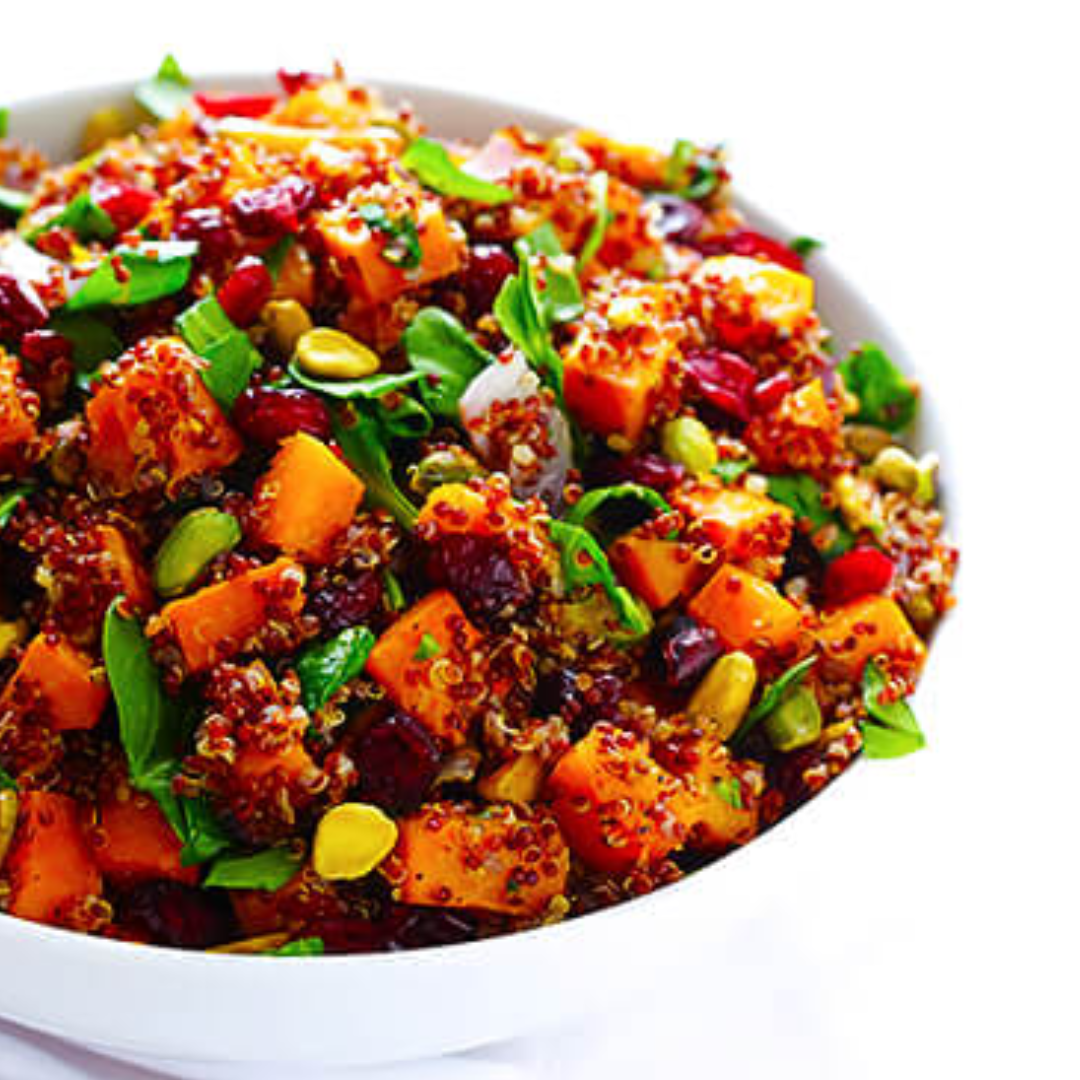 Happy Fall! There are so many great things about fall, but for me, delicious food is the best of all.   
No matter you are looking for thanksgiving dinner ideas, or simply some autumn flavours to add to the table, this will be perfect for you! This is an alternative to the classic bread stuffing, or dressing, made with fresh seasonal produce and whole grain. It is colourful and tastes absolutely refreshing. The squash and cranberries add a hint of sweetness to it which I'm sure both the kids and adults will enjoy. It's also gluten-free, vegetarian and vegan, for those who have dietary restrictions. Give this a try and it may become your new favorite holiday tradition! 
Yield: 4-6 Servings 
1 Butternut squash, peeled, seeded, and cubed  
1 Red onion, peeled and diced 
3–5 Cloves garlic, with peel still on 
1 Tbsp vegetable or canola oil (or any high-heat oil) 
Salt and pepper 
1 ½ Cups quinoa, rinsed 
3 Cups water 
Zest of one orange 
2 Cups fresh spinach, roughly-chopped 
½ Cup dried cranberries 
Preheat oven to 425 degrees F. Line a baking sheet with aluminum foil.

 

In a large mixing bowl, toss butternut squash, onion, and garlic cloves until they are evenly coated with oil. Spread them out in an even layer on the prepared baking sheet. Season with salt and pepper to taste. 

 

Roast the vegetables for 30 minutes, or until soft. Set aside and discard the garlic peels.

 

Meanwhile, stir together quinoa, water, and orange zest in a saucepan, and cook according to package instructions. When cooked, set aside.

 

Add the cooked veggies, quinoa, spinach, and cranberries to a large mixing bowl, and gently toss to combine. Serve warm.

 
Nutritional Information (per serving)  
320 calories, 63g carbohydrates (9g fibre, 15g sugar), 8g protein, 5g fat (0.5g saturated, 0g trans, 4.5g unsaturated), 215mg sodium 
Recipe adapted from Gimme Some Oven and approved by Chloe Cheng, Registered Dietitian, Wholesome Kids Catering.