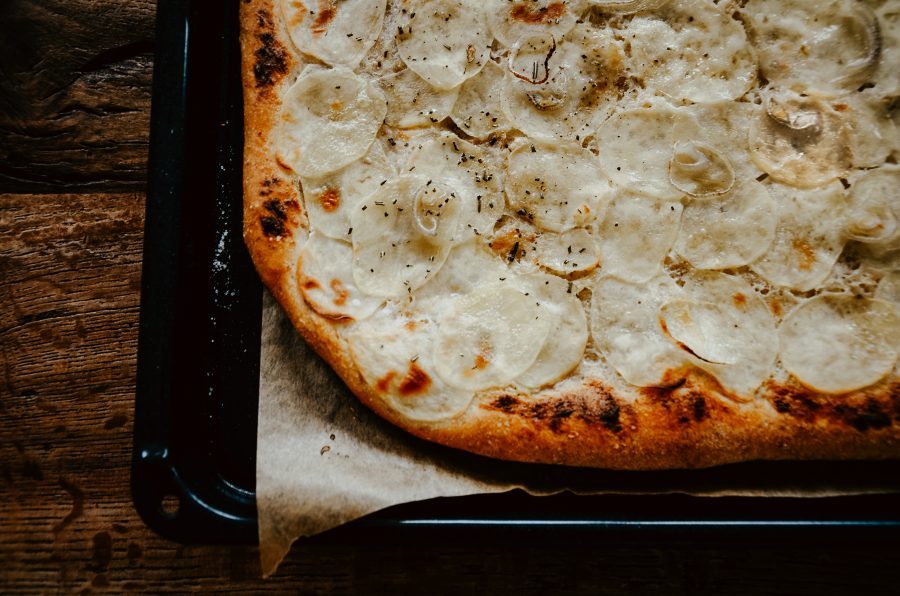 Easy and delicious – a kid favorite!
Ingredients:
1 Pizza Dough
3 medium Potatoes
¼ cup Olive Oil
Salt and pepper to taste
Parmesan Cheese
Optional:  Rosemary, thinly cut Onions
Directions:
Let pizza dough rise (approx. 1 hour)
Boil potatoes for 5 minutes, cool, then peel and thinly slice on a grater
Grease metal baking sheet
Spread pizza dough on pan (optional: divide the dough into two equal pieces)
Place the sliced potatoes into a large bowl and drizzle with most of the oil
Add the salt and pepper and any optional items, then mix together so that all the slices are lightly oiled
Arrange the slices of potato on the dough, overlapping them
Sprinkle the Parmesan over the top
Drizzle the rest of the oil over the pizzas
Cook on middle rack at 425 degrees for approximately 15-20 minutes, or until golden brown and the pizza bottom and potato is cooked through.
Tip:  To get a crispy base on pizzas cooked on pizza trays, slide the pizzas off the trays onto the oven rack for the last few minutes.