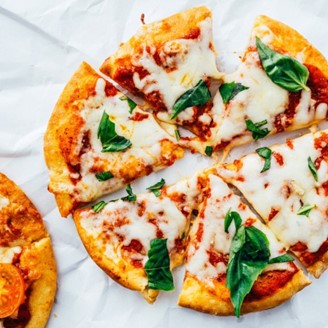 Imagine you come home from work feeling exhausted and hungry with no food prepared… This pita pizza will save the day! Simply lay out any ingredients or leftovers available and let the kids build their own pizzas with their favorite toppings. It only takes minutes to assemble and the best part? Easy cleanup!
Yield: 1 Pizza
Ingredients
1 Pita Bread, preferably whole wheat
1 Tbsp Tomato Sauce, low sodium
1 Oz Mozzarella Cheese, shredded
Any Desired Toppings
Instructions
Preheat oven to 400 degrees.
Spread a thin layer of tomato sauce on the pita bread and top it with cheese and other desired toppings.
Bake for 10 minutes or until cheese has melted.
Nutritional Information (per pizza)
255 calories, 38g carbohydrates (4g fibre, 3g sugar), 14g protein, 7.0g fat (3.5g saturated, 0g trans, 3.5g unsaturated), 550mg sodium
Recipe adapted from A Mind Full Mom and approved by Chloe Cheng, Registered Dietitian, Wholesome Kids Catering.