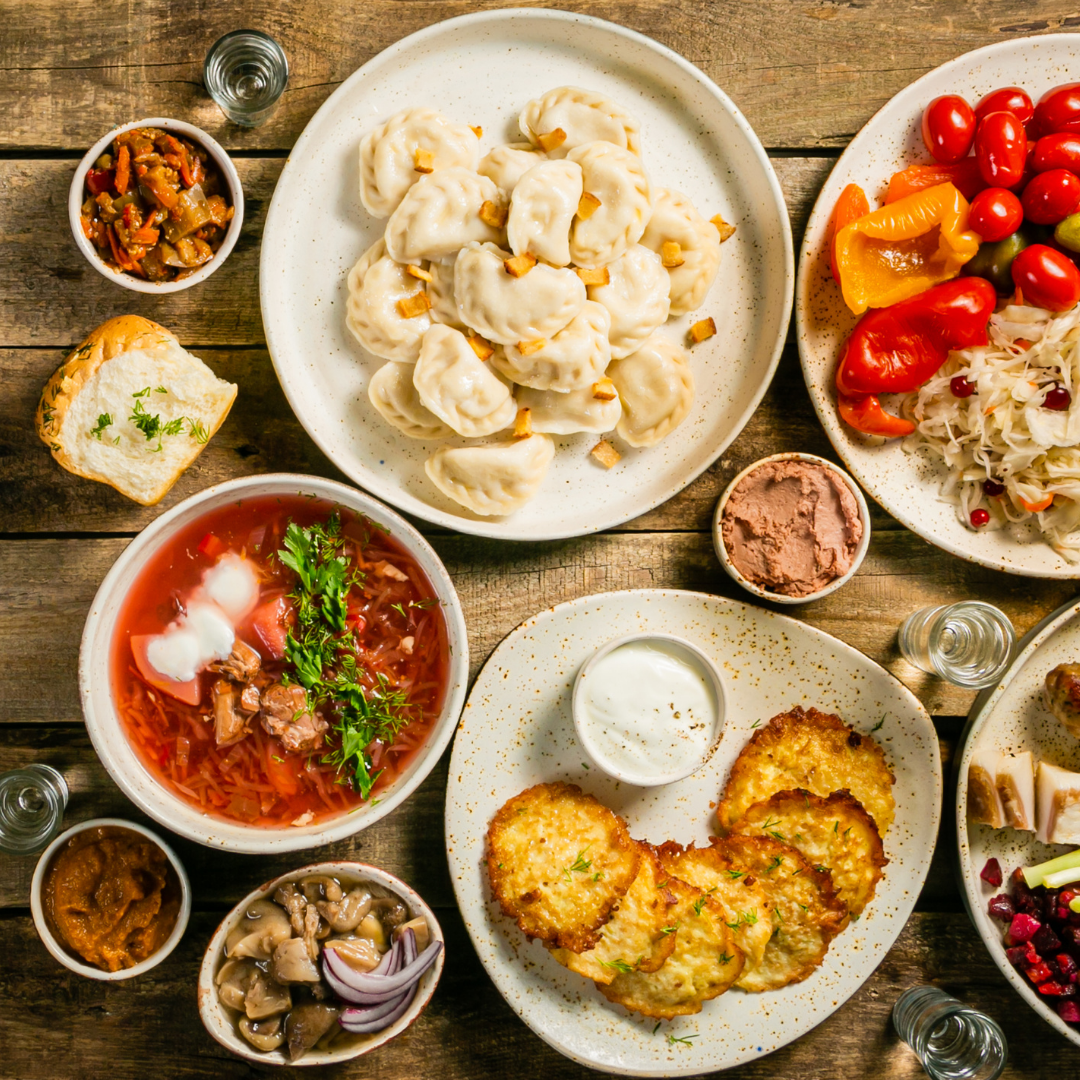 In light of the current world events happening in Eastern Europe, Wholesome Kids wants to recognize the people of Ukraine facing war and displacement from their homes.  We want to show our support by highlighting the Ukrainian culture shared through food.  Ukrainian food tends to feature locally grown vegetables such as potatoes, cabbage, mushrooms and beetroot.  Enjoy a couple of our favourite recipes below.
Pierogies
Ingredients:
(Yields 12-16 dozen perogies)
Butter and sour cream for serving
Filling:
5 lbs potatoes (preferably large russet)
1 lb sharp cheddar cheese, grated
1 onion, diced and sauteed in 1 Tbsp butter
Dough:
6 cups all-purpose flour
2 tsp salt
2 cups warm water (ideally potato water from filling)
2 Tbsp vegetable oil
2 large eggs, beaten
Directions
To make the filling, peel the potatoes and cut them into quarters. Cook in boiling water until soft enough to mash. Reserve 2 cups of potato water and then drain well.
Return potatoes to the pot and add the grated cheese and sauteed onions. Mash until smooth and all the ingredients are combined. Place in the fridge and let cool for at least an hour.
To make the dough, in a large bowl sift the flour and add salt. Mix together the water, oil and eggs and pour half of this mixture into the flour. Mix and slowly add the remaining liquid. Knead by hand until flour and liquid are well combined. You may need to add a small amount of either flour or water, depending on the consistency of the dough. You will end up with a ball of dough that is very pliable but not sticky.
Wrap dough in plastic wrap and let rest for at least 30 minutes.
To assemble the perogies, cut the dough in half or thirds, keeping unused dough wrapped in plastic until needed. Flour the table and roll dough to about ⅛ inch thickness.
Cut the dough in rounds using a small upside-down drinking glass.
Fill each round of dough with about 1 Tbsp of potato filling and seal the edges of the dough together with your fingers. Make sure there are no gaps when pinching the edges so your filling doesn't come out during boiling.
To cook, bring a pot of water to a boil and cook perogies in small batches (about 10-15 at a time), stirring gently to prevent perogies from sticking together. Perogies are finished cooking when they float to the top.
Use a slotted spoon to remove them from the water and drain before transferring to a bowl.
Toss with butter, serve hot with sour cream and enjoy!
Nutritional Information (per pierogi):
35 calories, 40mg sodium, 5g carbohydrates, 1g protein, 1g fat (0.5g saturated fat, 0g trans fat, 0.5g unsaturated fat), 0g sugar, 0g fibre
Beet Borscht
Ingredients:
(Yields 10 servings)
3 medium beets, peeled and grated
4 Tbsp olive oil
8 cups chicken broth (preferably low sodium)
2 cups water
3 medium potatoes (ideally Yukon), peeled and sliced into bite-size pieces
2 large carrots, peeled and thinly sliced
2 celery ribs, finely chopped
3 Tbsp tomato sauce
1 can white cannellini beans, not rinsed
2 bay leaves
2-3 Tbsp white vinegar, or to taste
1 tsp salt
¼ tsp black pepper
1 garlic clove, minced
3 Tbsp fresh dill, chopped
Directions:
Peel, grate and/or slice all vegetables (keeping sliced potatoes in cold water to prevent browning until ready to use).
In a large soup pot add 2 Tbsp olive oil over medium heat. Add grated beets and sauté 10 minutes, stirring occasionally until beets are softened.
Add the chicken broth and water. Add the potato and carrots and cook for 10-15 minutes, until easily pierced with a fork.
While potatoes are cooking, place a large skillet over medium heat and add 2 Tbsp oil. Add chopped onion, celery and pepper. Sauté until softened, stirring occasionally (about 7-8 minutes). Add 4 Tbsp tomato sauce and stir for 30 seconds and then transfer to the soup pot to continue cooking.
When potatoes and carrots reach desired softness, add the white cannelloni beans with their juice, bay leaves, white vinegar, salt, black pepper, garlic and dill.
Simmer for an additional 2-3 minutes and enjoy!
Nutritional Information (per serving):
200 calories, 530mg sodium, 28g carbohydrates, 10g protein, 7g fat (1g saturated fat, 0g trans fat, 6g unsaturated fat), 4g sugar, 6g fibre
Recipes adapted from The House and Homestead and Natasha's Kitchen and approved by Emma Minden, Registered Dietitian, Wholesome Kids Catering