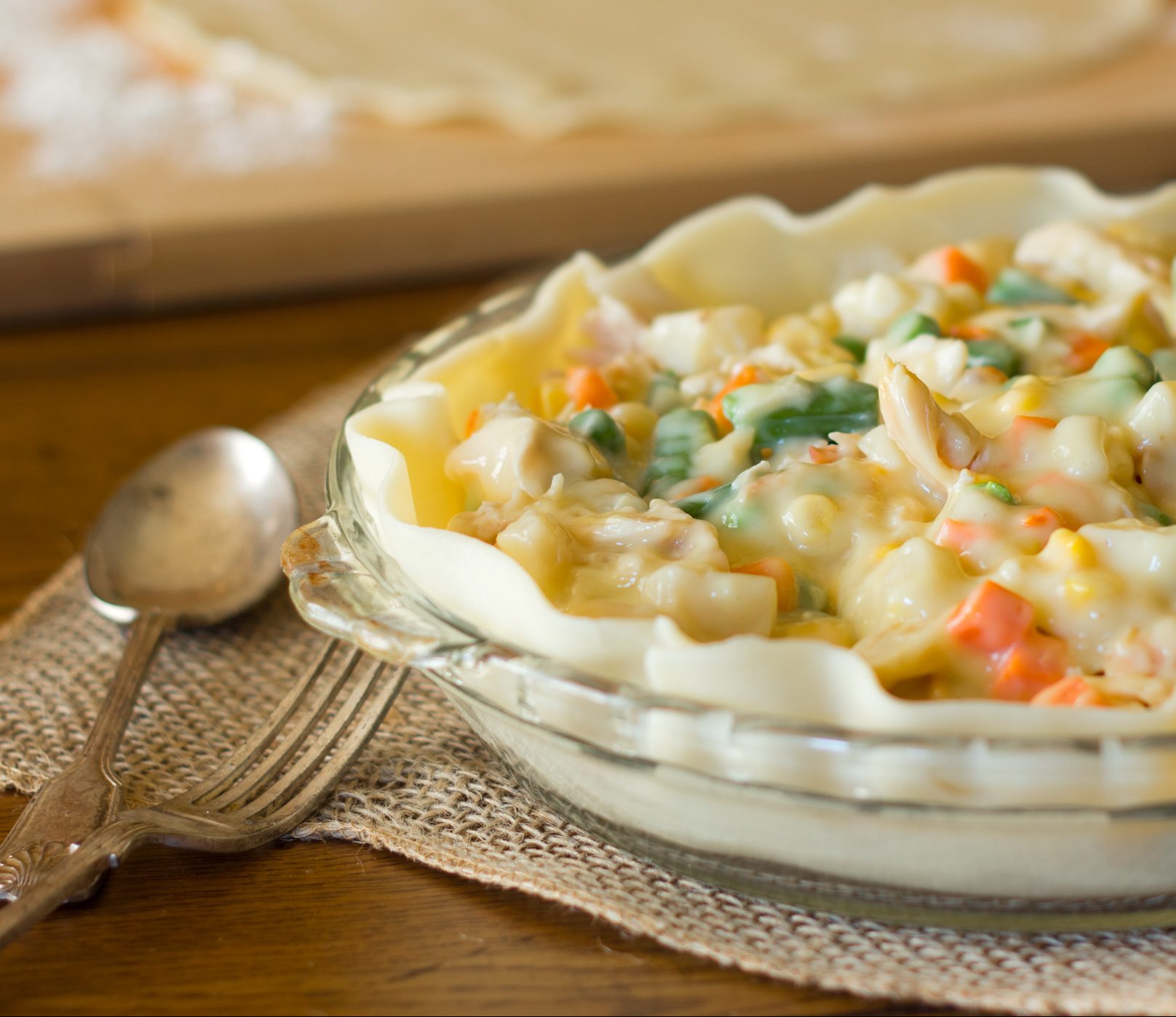 Chicken pot pie is a comforting dish enjoyed by both kids and adults.  Making the pie shell and crust, however, can be difficult and time consuming.  This one-pot meal is simple, quick and since it's only one pot, is easy to clean up!
For even more convenience, use frozen, diced onions and carrots along with the peas.
Ingredients:
1 large onion, diced
2 medium carrots, diced
3 tablespoons flour
4 cups reduced sodium chicken broth
2 cups 2% milk
350g (approx. 1 to 1-1/2 cups) chicken, cut into small pieces
250g (2-1/2 cups) uncooked pasta of your choice, whole wheat or white
1-½ cups frozen peas (or corn)
Yield:  8 Servings
Directions:
Melt the butter in a large saucepan.
Add the onion and carrots, and cook for 5 minutes.
Add the flour and stir for 2 minutes, ensuring the vegetables are coated.
Add the stock and milk and bring to a simmer.
Add the chicken and allow to poach at a simmer for 10 minutes.
Add the frozen peas and cook for 2 minutes to ensure the peas are heated through.
Season with salt and pepper.
Although this recipe is for chicken pot pie, the chicken and broth can easily be swapped out for tofu and veggie broth to make it a vegetarian dish.
Nutritional Information (per serving): 300 calories, 291mg sodium, 39g carbohydrates, 19g protein, 8g fat (2g saturated fat, 0g trans fat, 6g unsaturated fat), 9g sugar, 5g fibre
Recipe adapted from www.mykidslickthebowl.com/comforting-creamy-chicken-pasta-soup/ and approved by Emma Minden, Registered Dietitian, Wholesome Kids Catering.