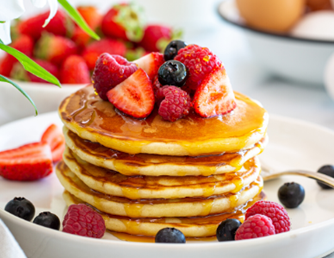 Happy Mother's Day to all the amazing moms out there! To make this Mother's Day extra special, try making this simple pancake recipe with your kids. They can help measure and mix the ingredients and decorate the pancakes. Instead of being little kitchen helpers, older kids can take the lead and flip the pancakes with adult supervision. This is so much fun and a great opportunity to make new memories and start new family traditions.
Yield: 16 4" Pancakes
Ingredients
1 ½ Cups All-Purpose Flour
3 ½ Tsp Baking Powder
1 Tsp Salt
2 Tbsp Unsalted Butter, Melted
1 ¼ Cups Milk of Choice
1 Egg, Lightly Beaten
Instructions
In a small bowl, whisk together flour, baking powder, and salt.
In a medium bowl, whisk together melted butter, milk, and egg.
Gently stir the dry mixture into the wet ingredients until just combined. Do not overmix. Let the batter rest for 10 minutes.
Heat a non-stick frying pan or griddle over medium-high heat and melt ½ Tbsp butter. When the butter sizzles, slowly add pancake batter (¼ cup each pancake) onto pan. Leave plenty of space between pancakes for easy flipping.
When small bubbles start forming at the top, flip and cook until browned and cook through.
Continue cooking in small batches.
Decorate pancakes with your favorite toppings and serve immediately.
Nutritional Information (per pancake)
70 calories, 10g carbohydrates (0g fibre, 1g sugar), 2g protein, 2g fat (1g saturated, 0g trans, 1g unsaturated), 160mg sodium
Recipe adapted from Worn Slap Out and approved by Chloe Cheng, Registered Dietitian, Wholesome Kids Catering.