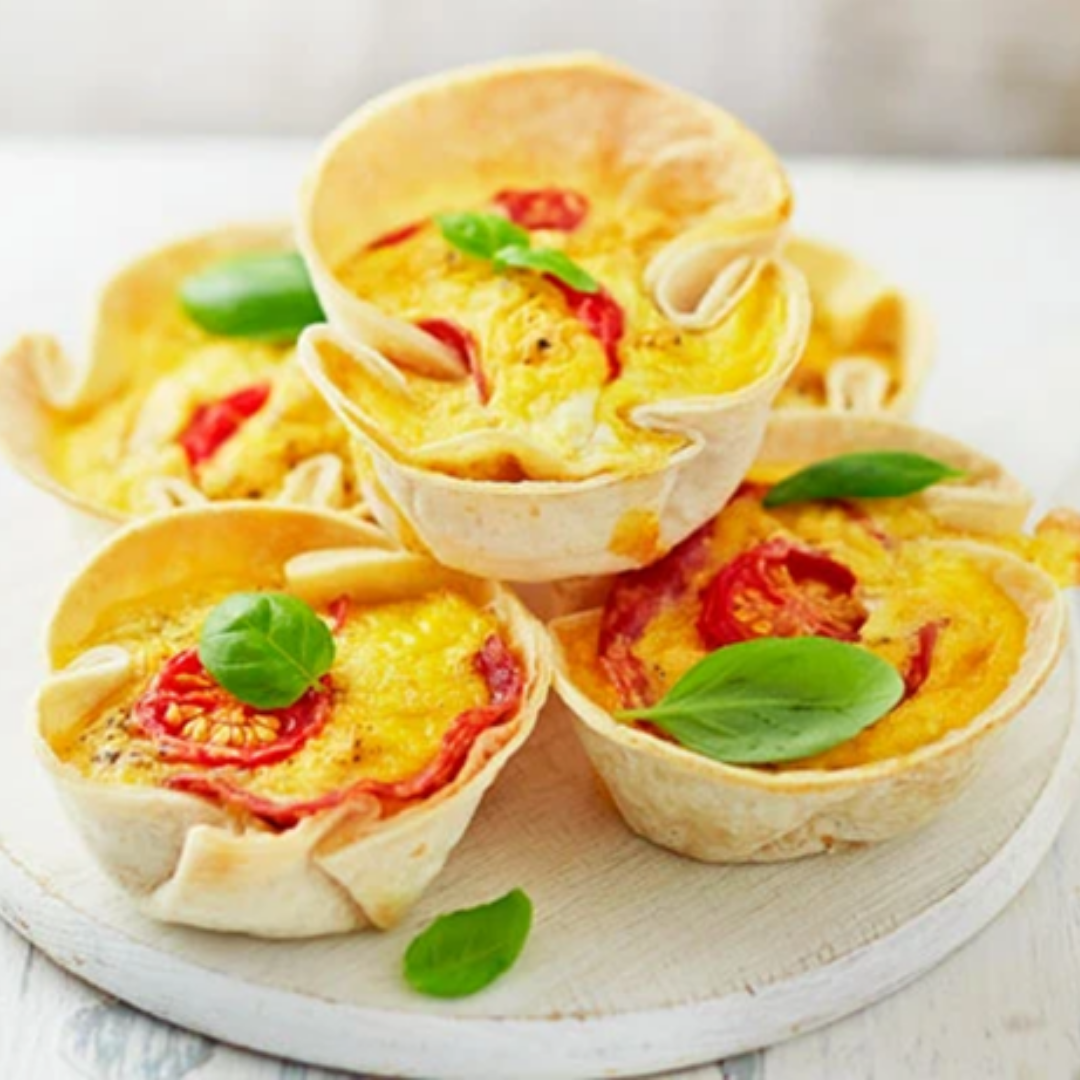 Mini Veggie Pizza Quiches are a great lunch or snack option for kids!  These mini quiches are easy to hold for tiny hands and high in protein!  They are easy and quick to bake and are super versatile.  You can make 12 of the same kind or simply mix and match ingredients to make a variety pack.  This recipe includes protein, vegetables and whole grains making it a great balanced meal or snack option.  The whole wheat tortillas can easily be subbed out with corn tortillas to make this recipe gluten-free.  Enjoy!
Ingredients:
3 cups vegetables of your choice (tomatoes, peppers, onions, spinach, mushrooms, etc.)
1 tsp oil
12 large eggs
¼ cup milk
1 cup cheddar cheese, shredded
½ parmesan cheese, shredded
12 mini whole wheat tortillas (corn tortillas optional)
Directions
Preheat oven to 350°F and grease a muffin tin.
Chop the vegetables and cook in oil until slightly softened.
Place a mini tortilla in each muffin tin.
Divide the vegetables and cheeses over the 12 cups.
In a large bowl whisk the eggs and milk.
Pour mixture evenly over 12 cups.
Bake until cooked through and set, about 22-25 minutes.
Remove from tray, let cool and keep in refrigerator or freezer.
Nutritional Information (per egg bite):
190 calories, 270mg sodium, 12g carbohydrates, 12g protein, 11g fat (4.5g saturated fat, 0g trans fat, 6.5g unsaturated fat), 2g sugar, 2g fibre
Recipe adapted from Spend with Pennies and approved by Emma Minden, Registered Dietitian, Wholesome Kids Catering