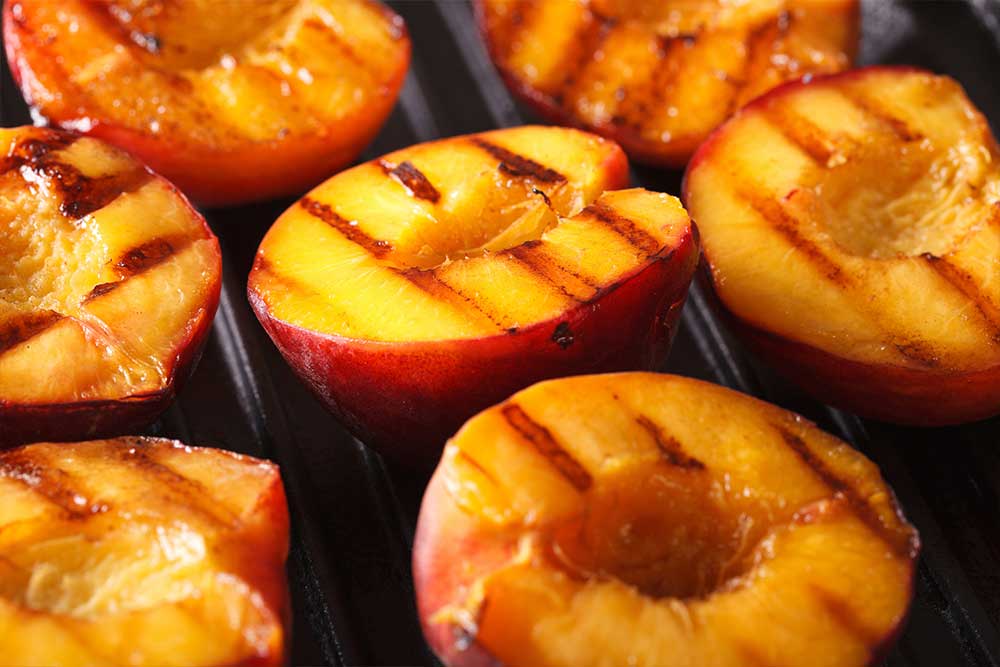 Great news from Foodland Ontario! Locally-grown peaches are available from July to September. Some popular Ontario-grown varieties include Early Redhaven, Vivid, Loring and Harrow Beauty. If you are looking for a tasty treat to serve during barbecue season, this simple and delicious recipe for maple grilled peaches is sure to please!
Quick Tip: Store your peaches at room temperature and out of direct sunlight until ripening begins.
Ingredients
8 Ontario-grown peaches, halved, pitted
1/4 cup pure maple syrup (the GOOD stuff!)
1/4 teaspoon nutmeg, ground
1/4 teaspoon cardamom, ground
1/8 teaspoon cinnamon, ground
 Directions
Place peaches cut side down onto lightly greased grill over medium-low heat
Close the lid and grill for about 5-7 minutes
Flip peaches, brush cut side (now facing upward) with maple syrup, and sprinkle the nutmeg, cardamom, and cinnamon mixture on top
Close the lid and grill for additional 5-7 minutes, or until tender
Optional: Enjoy alongside your favourite frozen yogurt or ice cream
Nutritionals (per serving / 1 whole peach): 80 calories, 0g fat, 19g carbohydrates (2g fibre, 15g sugar), 1g protein
Recipe adapted from CanadianLiving.com
Nutrition Tip: Already have dessert figured out and want to add maple grilled peaches to your meal instead?
Slice and add these peaches to a mixed green or arugula salad with some crumbled feta, pecans, and balsamic vinaigrette, or grill quartered peaches on a skewer together with cubed chicken, red onion, and bell peppers!