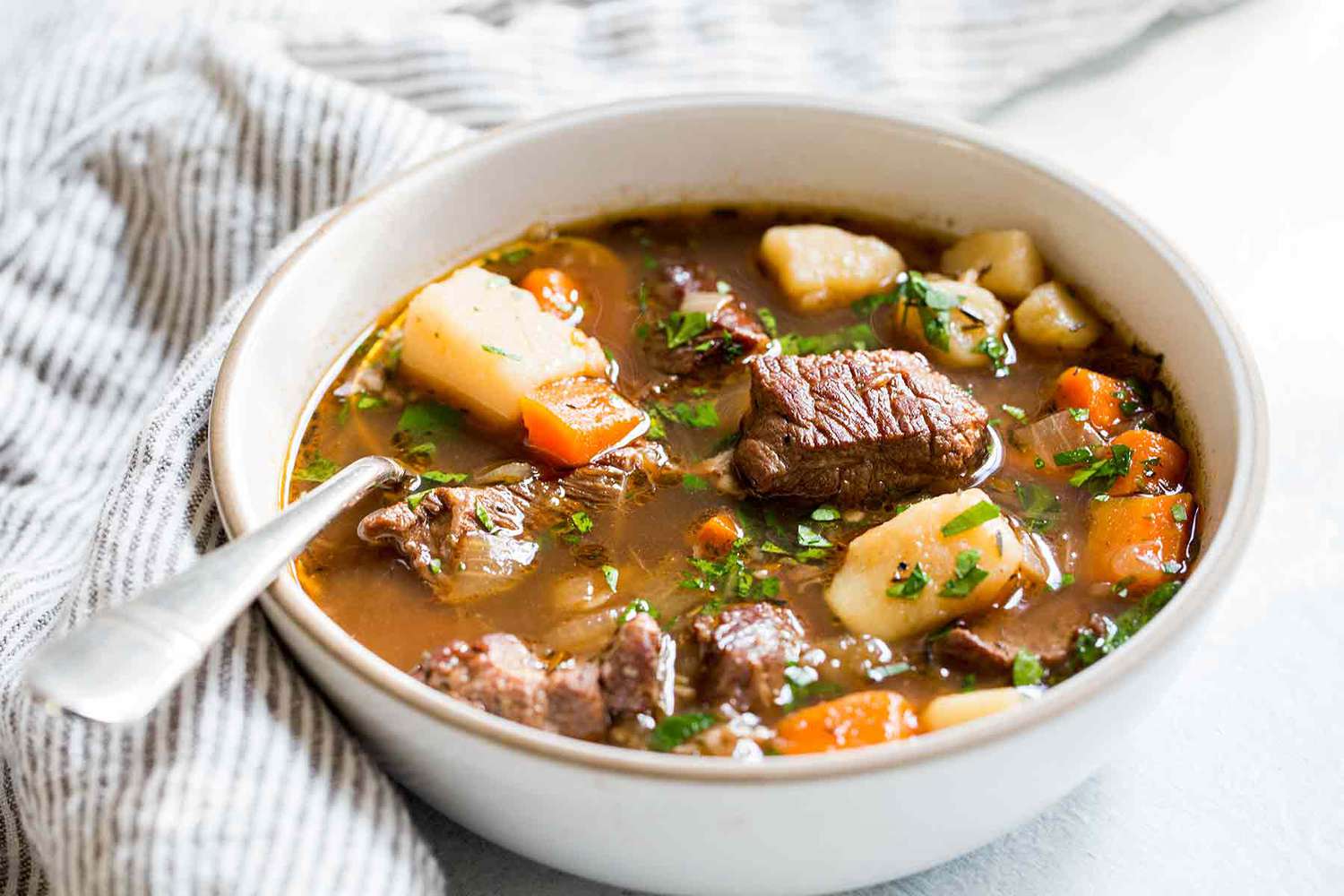 Traditional St. Patrick's Day Experience – Irish Beef Stew
Happy St. Patrick's Day! Let's celebrate with some authentic Irish comfort food. Irish stew is commonly considered the national dish of Ireland. It is typically made with simple and wholesome ingredients such as tender chunks of beef or lamb and rustic root vegetables. This rich and hearty stew is best paired with soda bread, an Irish staple made with buttermilk and baking soda rather than yeast. Enjoy!
Yield: 8 Servings
Ingredients
2 Lb Stewing Beef
3 Tbsp Vegetable Oil
6 Cloves Garlic, Minced
1 Large Onion, Cut into Eighths
3 Large Carrots, Cut into Chunks
2 Lb Baby Potatoes, halved
8 Oz Button Mushrooms, halved
1 Tsp Salt
1 Tsp Pepper
6 Cups Beef Stock, No Salt Added
2 Tbsp Tomato Paste
1 Tbsp Worcestershire Sauce
1 Tsp Sugar
2 Tsp Dried Thyme Leaves
2 Bay Leaves
3 Tbsp Corn Starch
Instructions
Season the beef with salt and pepper. Heat half the oil in a large pot. Add one-third of the beef and brown on all sides. Remove from pot and repeat with the remaining two batches of beef. Set the beef aside.
Add the remaining oil to the pot and cook the onion and garlic for 2 minutes.
Add the carrots and potatoes and cook for another 2 minutes.
Return the beef to the pot. Stir in the tomato paste, sugar, and Worcestershire sauce. Add the beef broth, thyme, and bay leaves. Bring to a boil then reduce to low heat and simmer for one hour.
Add the mushrooms and simmer for an additional hour.
Make a slurry by mixing the cornstarch with 3 tablespoons of cold water. Stir into the stew. Increase the heat to medium and simmer without the lid for 10 more minutes to thicken the broth.
Remove the bay leaves and serve with a side of soda bread (see recipe below).
Nutritional Information (per serving)
326 calories, 28g carbohydrates (5g fiber, 7g sugar), 30g protein, 11g fat (3g saturated, 0g trans, 8g unsaturated), 459mg sodium
Recipe adapted from Irish American Mom and approved by Chloe Cheng, Registered Dietitian, Wholesome Kids Catering.
Irish Soda Bread
Yield: 1 Loaf = 20 Slices
Ingredients
3 Cups All-Purpose Flour
1 Tsp Baking Soda
1 Tsp Salt
1½ Cups Buttermilk
Instructions
Preheat oven to 425 degrees Fahrenheit.
In a large bowl, whisk together 2½ Cups flour, salt, and baking soda.
Slowly pour in the buttermilk while stirring, until a dough starts to form.
Move the dough onto a lightly floured surface and knead until it forms a smooth ball. Gradually add more flour as needed to achieve a firm, non-sticky dough.
Dust the outside of the dough with flour and place on an un-greased baking sheet. Use a sharp knife to slash a 1-inch deep cross on top of the loaf.
Bake in the oven for 35 minutes or until golden brown.
Nutritional Information (per slice)
80 calories, 15g carbohydrates (1g fibre, 1g sugar), 3g protein, 1g fat (0g saturated, 0g trans, 1g unsaturated), 199mg sodium
Recipe adapted from The Stay At Home Chef and approved by Chloe Cheng, Registered Dietitian, Wholesome Kids Catering.