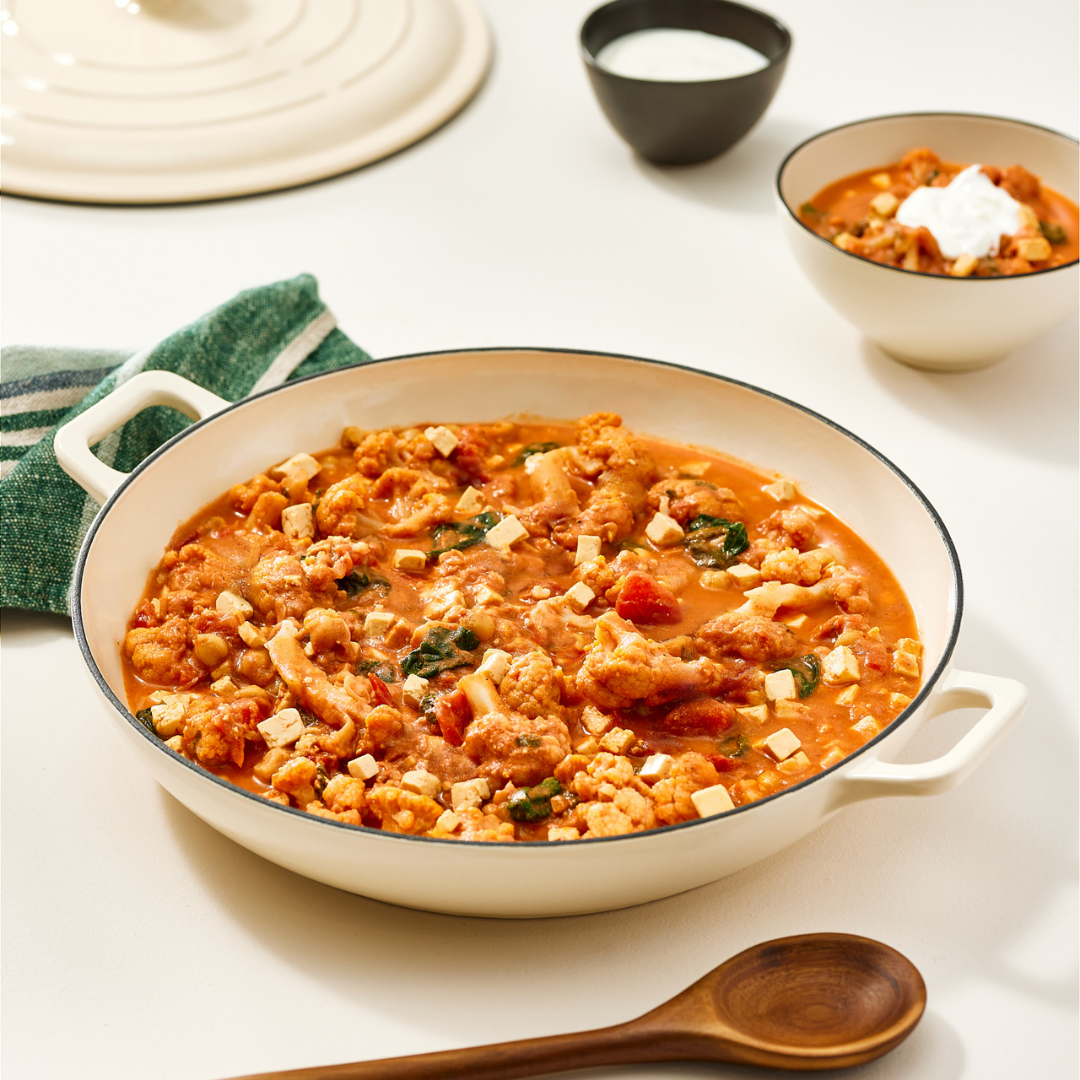 March is Nutrition Month and this year's theme is Unlock the Potential of Food: Ingredients for a Healthier Tomorrow.  The theme highlights how dietitians use their skills today to create change for a healthier tomorrow, with specific focus on food security, food literacy, food sovereignty, sustainable food choices, nutrition care and prevention.  Every year Dietitians of Canada releases an e-book filled with healthy and delicious recipes, so here is one of my favourites.
One Pot Indian-Inspired Paneer and Chickpeas
Ingredients:
(Yields 6 servings)
2 Tbsp butter
1 onion, chopped
2 cloves garlic, minced
1 Tbsp ginger, grated
1 Tbsp curry powder
28 oz canned crushed tomatoes
19 oz canned chickpeas, drained and rinsed
1 bag frozen cauliflower, thawed and chopped
½ cup water
½ tsp salt
1 Tbsp whole wheat flour
1 cup 2% milk
1 package paneer, cut into ½ inch cubes
3 cups baby spinach
1 cup plain yogurt
Directions:
In a large pot melt butter over medium heat. Add onion and sauté for 8 minutes until softened. Add garlic, ginger and curry powder and sauté for 30 seconds.
Stir in tomatoes, chickpeas, cauliflower, water and salt and bring to a simmer.
In a small bowl, whisk flour into milk; gradually pour into pot while whisking constantly. Simmer until sauce has thickened, about 3 minutes.
Add paneer and spinach and stir gently. Cook until paneer is heated through and spinach has wilted.
In a small bowl, whisk yogurt until smooth. Move pot from heat and stir in yogurt. Return to stove and heat through.
Enjoy!
Nutritional Information (per serving):
470 calories, 720mg sodium, 45g carbohydrates, 27g protein, 23g fat (13g saturated fat, 0.2g trans fat, 9.8g unsaturated fat), 19g sugar, 11g fibre
Recipe adapted from Dietitians of Canada and approved by Emma Minden, Registered Dietitian, Wholesome Kids Catering