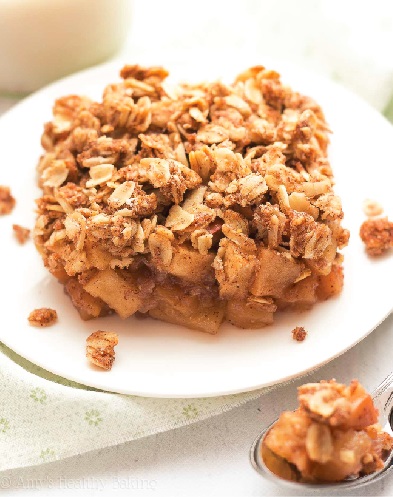 The temperature is dropping and the trees are looking pretty bare but fall is still here! The warmth of apples and cinnamon are perfect for wet, cold November days. This healthy apple crumble is low in sugar and very easy to prepare. Try it with some Ontario apples, there are many varieties that are available this time of year (Red Delicious, Granny Smith, Idared and Jonagold).
Healthy Apple Crumble (serves 8)
Apple Mixture
6 medium-sized apples
a generous splash of apple juice water
1 teaspoon vanilla extract
1/2 teaspoon ground cinnamon
Crumble topping
1 1/3 cups rolled oats (120 g)
1/4 cup flaked unsweetened coconut (25 g)
1/2 teaspoon ground cinnamon
1 teaspoon vanilla extract
3 tablespoons extra virgin olive oil
To prepare the apples
1. Wash the apples.
2. Cut into wedges or dice with the skin left on – make sure to remove the centre.
3. Place the apples into a large pot.
4. Combine with the apple juice or water, vanilla, and cinnamon.
5. Cook over medium heat for about 15-20 minutes – stirring occasionally until the apples have completely softened and collapsed. Taste and adjust the level of cinnamon, etc.
To make the crumble
1. Preheat oven to 325F.
2. Combine rolled oats, coconut, cinnamon, vanilla, and olive oil, rub ingredients together with your fingers to combine.
3. Pile your apple mixture into a suitable sized baking dish.
4. Scatter the crumble over the top.
5. Bake for 30-40 minutes or until the crumble is golden.
6. Remove from the oven and serve with plain Greek-style yogurt!
*For a gluten-free crumble, use 120 g almond meal or flaked almonds in place of the rolled oats.
Nutritional information (per serving):
179 calories, 22 g carbohydrates, 2.3 g protein, 7.5 g fat (2.2 g saturated, 0 g trans), 9 g sugar, 6 g fibre