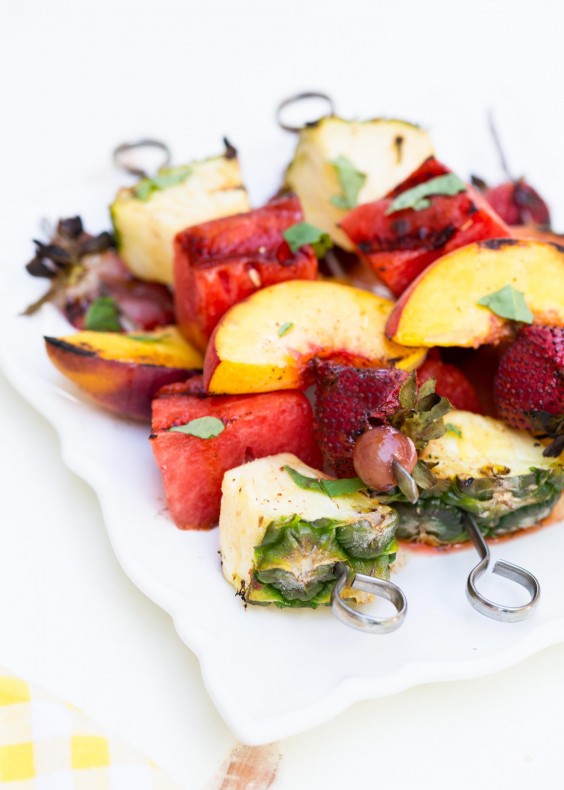 These grilled fruit kabobs are fun, colourful, and delicious! Kids love eating food on a stick and enjoy helping to make them too. These skewers are a great summer snack and a light and refreshing dessert to end a meal. They can be made with any fruit you want!
Yield: 6 servings
Ingredients
2 Cups Pineapple
2 Cups Cantaloupe
2 Cups Peaches
½ Lime, Juiced
2 Tbsp Maple Syrup
Oil Spray
¼ Tsp Ground Cinnamon
Instructions
If you are using bamboo skewers, soak them in water for 20 minutes to prevent them from burning on the grill.
Chop the fruits into 1-inch pieces.
Thread the fruits through the skewers, alternating each fruit type. Transfer them onto a baking sheet.
Preheat the grill to medium-high heat.
In a small bowl, mix together lime juice and maple syrup. Brush the mixture all over the skewers and spray with oil spray.
Place fruit kabobs on the grill in a single layer. Grill each side for 2-3 minutes or until grill marks have started to form.
Remove to a serving plate and sprinkle cinnamon on top as desired.
Nutritional Information (per serving)
83 calories, 21g carbohydrates (2g fibre, 17g sugar), 1g protein, 0.5g fat (0g saturated, 0g trans, 0.5g unsaturated), 2mg sodium
Recipe adapted from Feel Good Foodie and approved by Chloe Cheng, Registered Dietitian, Wholesome Kids Catering.