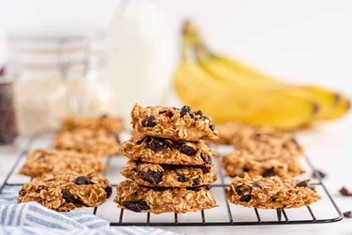 Festive Cranberry Oatmeal Cookies
Given loads of appealing festive treats, it is no surprise that maintaining a balanced diet over the holidays can be a challenge. Keep in mind that moderation is key and try to incorporate some fun and nutritious alternatives to the table. These cranberry cookies give the perfect holiday vibes and are for everyone! They are vegan and gluten free, made with whole grain and sweetened with fruits. The size of the cookie is perfect for kids as breakfast or snack. This is certainly one of our favorite holiday baking to do with the kiddos as they are super easy to make.
Yield: 18 Cookies
Ingredients
2 Cups Rolled Oats
2 Ripe Bananas
1 Cup Unsweetened Applesauce
1 Tsp Cinnamon
1 Tsp Vanilla Extract
1/3 Cup Dried Cranberries
Instructions
Preheat oven to 350 degrees F. Line a baking sheet with parchment paper.
Mash the bananas in a large bowl.
Add the rest of the ingredients to the mashed banana and mix together until well combined.
Using a small cookie scoop, drop dough onto the baking sheet and flatten them into round shapes.
Bake for approximately 20-25 minutes, or until golden brown.
Remove from the oven and let rest on baking sheet for 5 minutes and then move to a cooling rack.
Nutritional Information (per cookie)
62 calories, 13g carbohydrates (2g fiber, 5g sugar), 1g protein, 0.7g fat (0.1g saturated, 0g trans, 0.6g unsaturated), 1mg sodium
Recipe adapted from Kylee Cooks and approved by Chloe Cheng, Registered Dietitian, Wholesome Kids Catering.