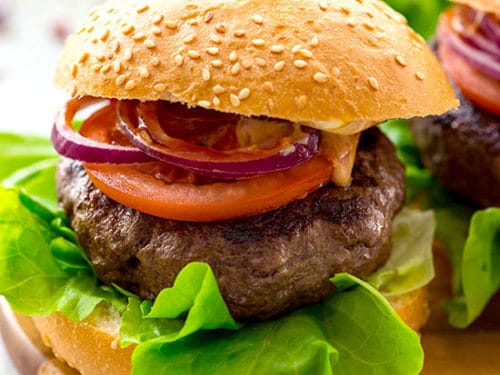 Happy Father's Day! Let's celebrate this day with some barbeque as we embrace the beginning of summer. This homemade bison burger will surely become your family's go-to grilling recipe. If you have never had bison, it is a great alternative to beef. It is leaner yet very tender and flavourful. It is very mild and doesn't taste gamey at all. Have your mini chefs mix the meat and form their own patties while teaching them about food safety. They can finish off building dad's burger with his favorite toppings.
Yield: 4 Burgers
Ingredients
1 Lb Lean Ground Bison
1 Tsp Dijon Mustard
½ Tsp Black Pepper
1 Tsp Onion Powder
1 Tsp Garlic Powder
1 Tsp Smoked Paprika
1 Tsp Dried Parsley
1/8 Tsp Cayenne Pepper
½ Tsp Salt
Vegetable Oil for Grill
4 Hamburger Buns
Burger Toppings
Instructions
In a large bowl, mix together bison meat and seasonings (except for salt) until well-combined. Do not overmix as it will toughen the meat.
Split the meat equally into 4 portions. Form four 3" diameter and ½" Thick patties. Make a dimple in the centre of each patty.
Preheat a grill over medium-high heat for about 5 minutes. Spray or brush the grill surfaces with oil.
Season the patties with salt on both sides prior to cooking.
For well-done burgers, grill about 4 to 4.5 minutes per side. Insert a thermometer into the centre to ensure it has reached an internal temperature of 160°F*.
Assemble the burgers and serve immediately.
*Health Canada recommends cooking ground meat thoroughly.
Nutritional Information (per burger)
204 calories, 1g carbohydrates (0g fibre, 0g sugar), 23g protein, 12g fat (3.5g saturated, 0g trans, 8.5g unsaturated), 404mg sodium
Recipe adapted from Healthy Recipes and approved by Chloe Cheng, Registered Dietitian, Wholesome Kids Catering.