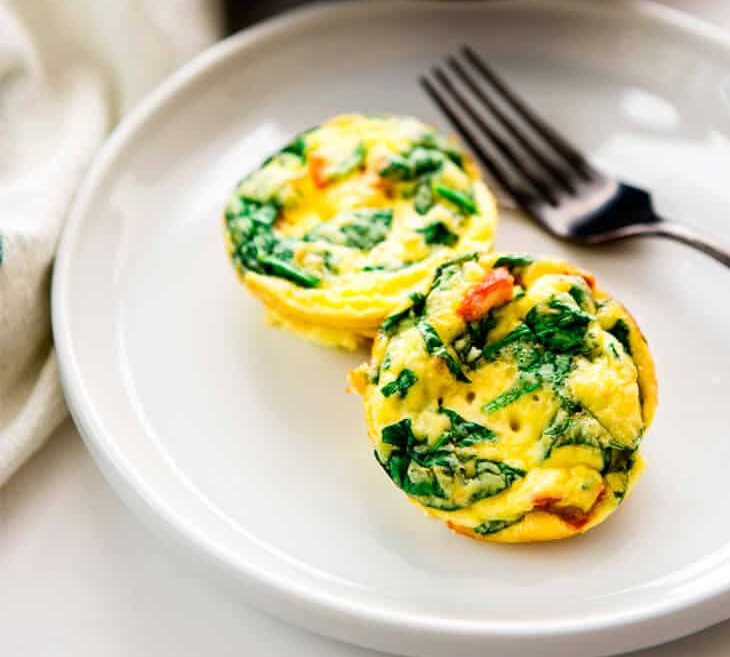 Egg Bites are a wonderful breakfast idea.  They're easy and very quick to make, which is ideal for those busy mornings. You can customize this breakfast by adding different ingredients to each egg cup. The mild taste and soft texture of this dish are sure to satisfy your child's taste buds.
Egg Bites (makes 12 bites)
Ingredients
1 tbsp olive oil
16 eggs
½ cup spinach, chopped
1 cup shredded marble cheese (can substitute with any kind of cheese)
½ cup red peppers, finely diced
1 cup chopped turkey bacon (cooked)
salt and pepper to taste
*You will need a silicone cupcake/egg tray for this recipe.
Directions
Preheat oven to 325 F.
Fill a 9×11 baking dish, halfway, with warm water
Grease each egg cup with olive oil and place the silicone egg tray into the baking dish with the warm water.
Add whisked eggs into each egg cup (about ¾ filled to the top).
Add in your favourite ingredients into each egg cup (i.e. turkey bacon and cheese, red peppers and cheese, etc.).
Enjoy!
Nutritional Information (per egg bite):
170 calories, 312mg sodium, 1g carbohydrates, 13g protein, 12g fat (5g saturated fat, 0g trans fat, 7g unsaturated fat), 0.5g sugar, 0g fibre
This recipe was curated and approved by Emma Minden, Registered Dietitian, Wholesome Kids Catering.