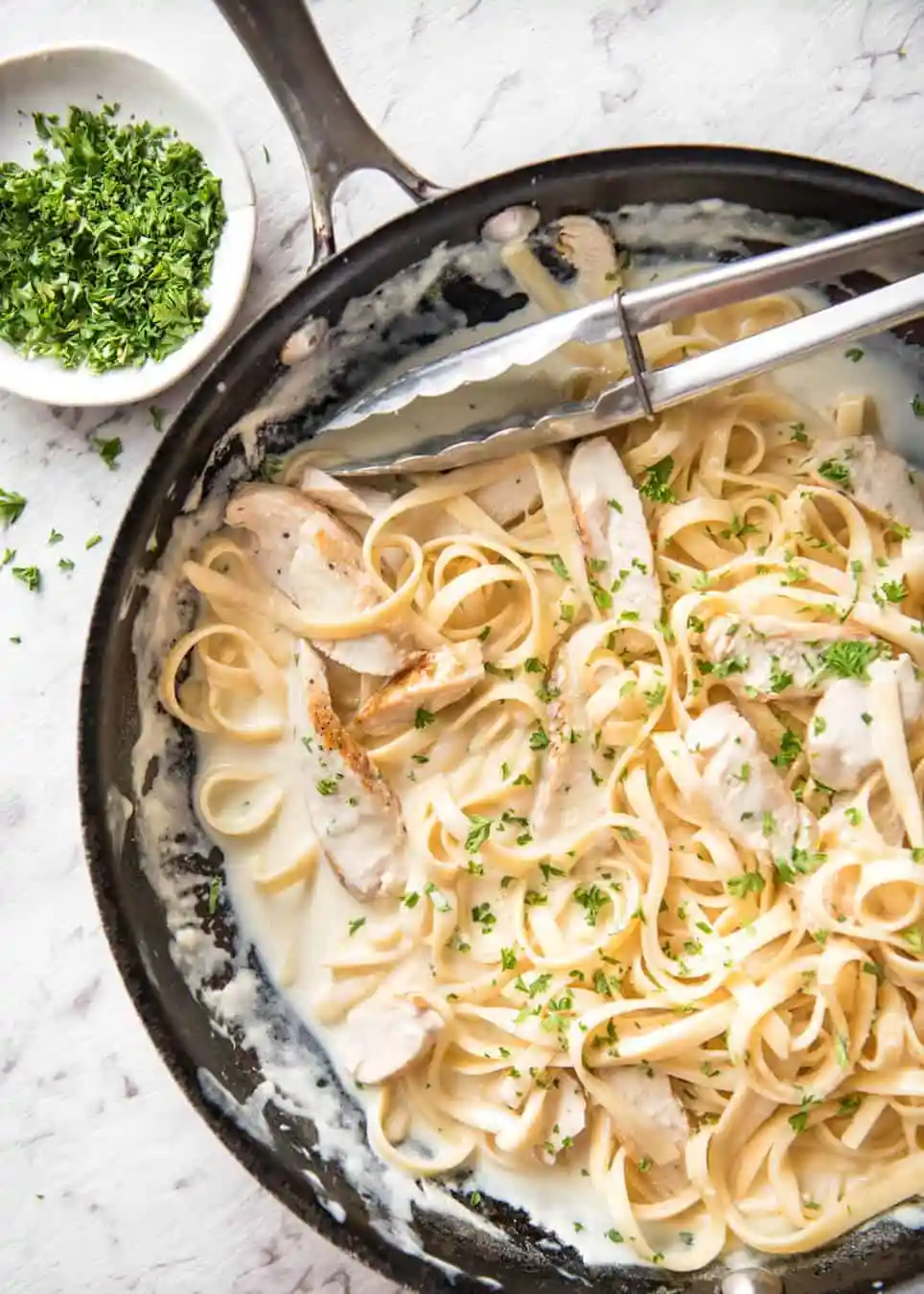 Chicken Alfredo Pasta
In anticipation of our new Spring/Summer menu launch, we are featuring another #WholesomeAtHome copycat recipe. This chicken alfredo pasta is perfect for busy weeknights. It is comforting, easy to make, and kid-friendly!
Yield: 6 Servings
Ingredients
12 oz Farfalle Bow Tie Pasta, Dry
1 Tbsp Vegetable Oil
1 Lb Chicken Breast, Cubed
¼ Tsp Salt
¼ Tsp Pepper
2 Tbsps Unsalted Butter
1 Medium Onion, Diced
4 Cloves Garlic, Minced
3 Tbsp All Purpose Flour
2 Cups Milk 2%
¼ Cup Shredded Parmesan Cheese
Salt and Pepper to Taste
Instructions
Cook pasta according to box directions. Once it's cooked, drain and set aside.
In a pan over medium-high heat, heat the vegetable oil.
Add the chicken and season with salt and pepper. Cook for 8-10 minutes or until the chicken is fully cooked. Remove from heat and set chicken aside.
In the same pan over medium heat, melt the butter and add onion. Cook for 5 minutes until it becomes translucent.
Add garlic and cook for 30 seconds.
Stir in the flour. Pour in the milk a little bit at a time, stirring in between, until fully incorporated and the sauce begins to thicken.
Add the parmesan cheese and stir until it's melted.
Remove from heat. Toss in the pasta and chicken and stir to combine. Season with salt and pepper to taste.
Nutritional Information
471 Calories, 54g Carbohydrates (3g fiber, 6g sugar), 36g Protein, 12g Fat (5g saturated, 0g trans, 7g unsaturated), 428mg Sodium
Recipe created by Wholesome Kids Catering Red Seal Chefs and approved by Chloe Cheng, Registered Dietitian, Wholesome Kids Catering