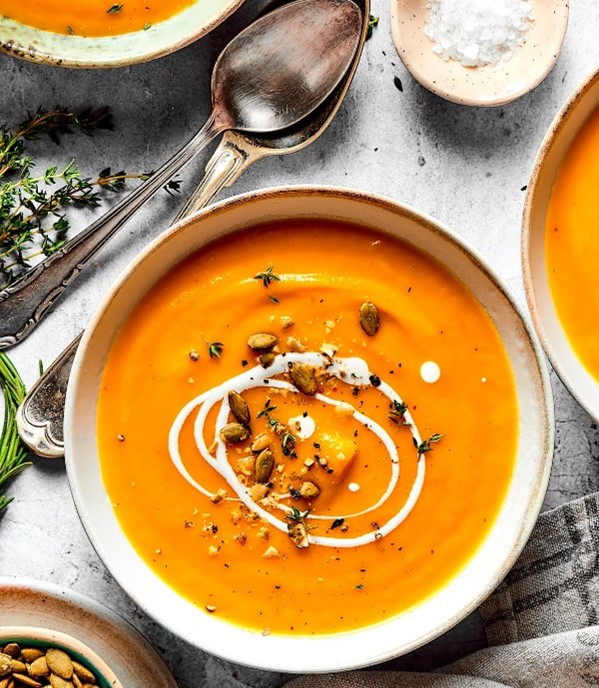 Autumn is here, and that means it's a great time to savor squash! Different types of squash, like butternut, are at their best in terms of taste and freshness during this season. Butternut squash, with its vibrant orange color, is packed with beta-carotene, which is essential for maintaining good vision, supporting the immune system, and promoting healthy skin. This soup is wonderfully rich and creamy without any dairy ingredients. It's sure to be the highlight of your Thanksgiving feast, leaving your guests feeling warmly satisfied!
Yield: 6
Ingredients
3 Lb Butternut Squash
3 Tbsp Olive Oil
½ Tsp Salt
¼ Tsp Black Pepper
2 Tbsp Olive Oil
1 Large Yellow Onion, Chopped
¼ Tsp Salt
⅛ Tsp Black Pepper
⅛ Tsp Ground Cinnamon
6 Cups Vegetable Broth, No Salt Added
Drizzle of Coconut Milk, optional, for garnish
Toasted Pumpkin Seeds, optional, for garnish
Instructions
To Roast the Squash:
Preheat the oven to 400F. Line a baking sheet with parchment paper.
Peel and cut the squash into 1" cubes.
Place the cubes into a large bowl and toss well with the oil, salt, and pepper.
Spread the pieces out evenly onto the parchment-lined baking sheet.
Roast for 30-40 minutes or until the cubes are soft and caramelized.
To Make the Soup:
Heat the olive oil in a large pot over medium heat, then add the onion, salt, and pepper and cook for 10 minutes until the onions are soft.
Add the roasted butternut squash and cinnamon and stir for 2 minutes until the cinnamon smells fragrant.
Add the stock and bring it to a boil over high heat. Reduce to a simmer and cook for 2 minutes.
Puree the soup using an immersion blender or cool the soup slightly and blend in a stand blender in batches.
Serve as is or top with a drizzle of coconut milk and a few pumpkin seeds if desired.
Nutritional Information (per serving)
199 calories, 25g carbohydrates (4g fibre, 10g sugar), 2g protein, 11g fat (1.5g saturated, 0g trans, 9.5g unsaturated), 313mg sodium
Recipe adapted from Fifteen Spatulas and approved by Chloe Cheng, Registered Dietitian, Wholesome Kids Catering.