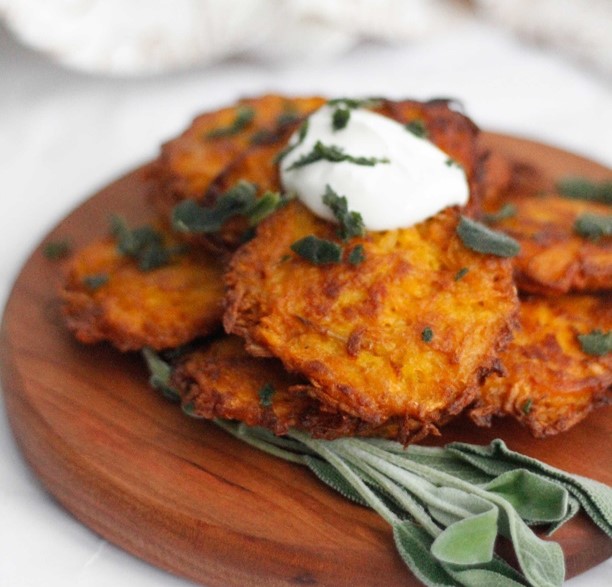 Fall is around the corner, which means it is the perfect time to enjoy squash! Many varieties of squash, including butternut, are at their peak freshness and flavor during this time. Butternut squash is rich in beta-carotene which is responsible for its vibrant orange colour and essential for maintaining healthy vision, supporting the immune system, and promoting skin health. These butternut squash latkes are the ideal finger food, and their irresistible crispy texture is a hit with kids. They also make an excellent side dish for your Thanksgiving celebration!
Yield: 12
Ingredients
3 Cups Grated Butternut Squash
½ Cup Grated Onion
2 Large Eggs
¼ Cup Whole Wheat Flour
½ Tsp Kosher Salt
Cooking Spray
Sour Cream, optional
Applesauce, optional
Instructions
Place a large baking sheet in the oven and preheat the oven to 450F.
Mix grated squash and onion. Then, squeeze the excess liquid out of the vegetables.
In a large mixing bowl, mix together squash, onion, eggs, flour, and salt.
Carefully remove the hot baking sheet from the oven and cover the sheet evenly with a 3-second spray of cooking spray.
Spoon squash mixture onto the sheet in 12 evenly spaced mounds.
Use the back of the spoon to flatten and spread each mound into a circle about 3 inches wide.
Carefully return pan to the oven and bake for 8 minutes.
Remove baking sheet and coat the top of the lakes with another 3-second spray of cooking spray. Gently flip with a spatula.
Return to the oven and bake for 10 minutes or until both sides of latkes are crispy.
Serve with sour cream and/or applesauce if desired.
Nutritional Information (per jar)
45 calories, 7g carbohydrates (1g fibre, 1g sugar), 2g protein, 1.5g fat (0.3g saturated, 0g trans, 1.2g unsaturated), 111mg sodium
Recipe adapted from Eating Richly and approved by Chloe Cheng, Registered Dietitian, Wholesome Kids Catering.