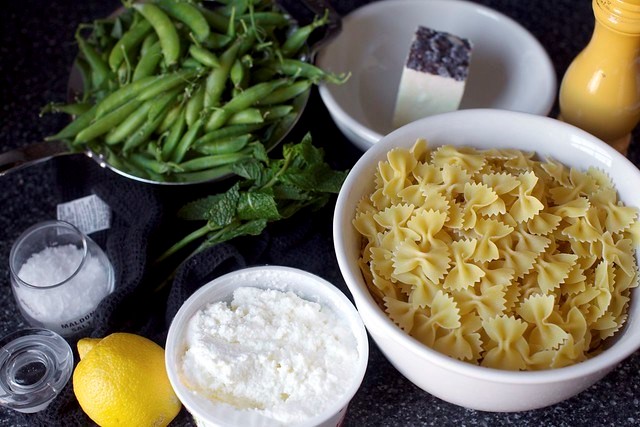 If you're looking for a quick and easy spring dinner that the kids will also love, look no further!  This pasta dish is full of flavour and has an irresistible crunch with the addition of tasty sugar snap peas!  If your crew is not into those, no problem – substitute with just about any green veggie in this dish like broccoli, zucchini, or even garden peas!
Serves 6-8 portions
Ingredients
2 cups sugar snap peas, washed, strings removed, and cut into segments
2 cups pasta bowties (choose whole wheat for extra fibre and nutrients)
1/2 cup parmesan cheese, grated
1 cup ricotta cheese
1-2 tablespoons olive oil
Sea salt, ground
Black pepper, ground
Juice of 1 lemon
Directions
Bring a large pot of salted water to a boil
Cook bowties for 2 minutes less than the suggested cooking time on the package, then add sugar snaps to pasta and cook for 1 minute longer
Reserve 1 cup of the pasta cooking water and then drain the bowties and sugar snaps
Add them back to the empty pot with 1/2 cup cooking water, ¼ cup grated parmesan, olive oil, and a pinch of salt and freshly ground pepper (to taste)
Cook for 1 minute on high heat, while mixing. Add the remaining cooking water if the mixture seems dry.
Turn off the heat and mix in the ricotta
Squeeze some lemon juice over top and finish by sprinkling the remaining ¼ cup parmesan cheese!
Recipe adapted from www.smittenkitchen.com
Nutrition Tip: Did you know that sugar snap peas are a good source of vitamins A and C, fibre, and potassium? Boost the nutritional value of any pasta dish by throwing in some colourful veggies!