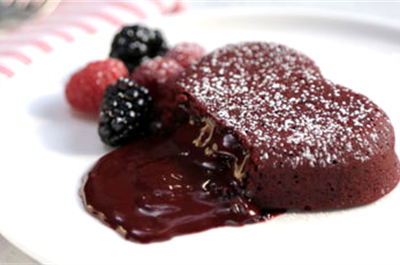 Black Bean Lava Cake
Here's a classic Valentine's Day dessert to share with your family. That gooey molten centre is to die for. This chocolate cake is vegan and gluten-free and made with black beans! Black beans are great substitutions for fat and flour in baking and they add extra protein and fibre to your treats. Instead of hiding the beans in the batter, show your kids that using beans in their favorite dessert can be surprisingly delicious! This is a wonderful opportunity to celebrate the World Pulses Day and teach children about the benefits of eating pulses for better health and more sustainable food systems.
Yield: 4 Cakes
Ingredients
1 15 oz Can Black Beans, Drained and Rinsed
⅓ Cup Maple Syrup
¼ Cup Unsweetened Applesauce
1 Tsp Apple Cider Vinegar
¼ Tsp Sea Salt
¼ Cup Almond Meal
½ Cup Unsweetened Cocoa Powder
1 Flax Egg (1 Tbsp ground flax mixed with 3 Tbsp warm water)
1 Tsp Baking Powder
Vegetable Oil to grease ramekins
4 Pieces of vegan chocolate
A Handful of Raspberries
Instructions
Preheat oven to 350 degrees F.
In a food processor, pulse to combine black beans, maple syrup, applesauce, apple cider vinegar and sea salt, about 1 minute.
Add in almond meal, cocoa powder, and flax egg and process until combined, about 30 seconds.
Add in baking powder and continue processing for another 30 seconds.
Grease four 5 oz ramekins with vegetable oil.
Add ¼ Cup of batter to each ramekin.
Place a piece of chocolate in the center and then cover each ramekin evenly with the remaining batter.
Place ramekins on a baking sheet and bake for 25 minutes.
Remove from the oven and let cool for 10 minutes.
Use a knife to loosen edges and then flip ramekins over on a plate. Top with raspberries and serve warm.
Tip: Bake in heart shaped ramekins to add a festive touch to these tasty treats.
Nutritional Information (per cake)
280 calories, 48g carbohydrates (13g fibre, 19g sugar), 11g protein, 8g fat (2g saturated, 0g trans, 6g unsaturated), 300mg sodium
Recipe adapted from The Healthy Maven and approved by Chloe Cheng, Registered Dietitian, Wholesome Kids Catering.