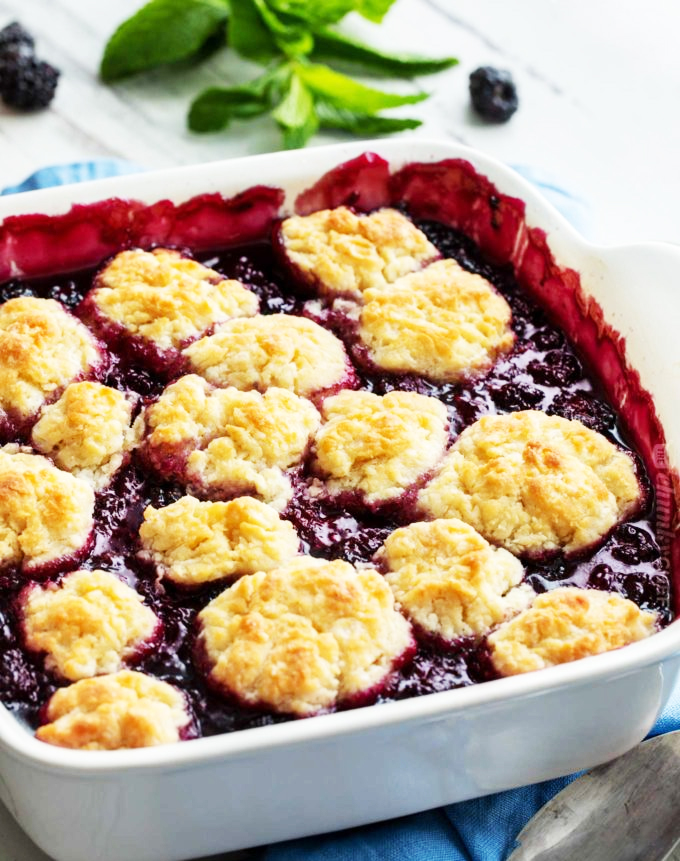 This recipe is a great way to incorporate more fruits into your diet, and the sweetness from the berries allows for a reduced sugar content. Its warm, soft and moist nature makes it the perfect dish to satisfy that sweet tooth!
Berry Cobbler (6 Servings)
Ingredients
Berry Mixture:
1 cup blueberries
1 cup blackberries
1 cup strawberries
¼ cup lemon juice
⅓ cup white granulated sugar
1-2 tbsp of flour
Batter:
1 egg
½ cup whole milk
1 tsp vanilla extract
4 tbsp unsalted butter, melted
1 cup whole wheat flour
¾ cup white granulated sugar
1 tsp baking powder
¼ tsp salt
Directions
Preheat oven to 375°. Grease an 8-inch square baking dish with cold butter, rubbing it all over the bottom and up the sides.
To make the batter, in medium-sized bowl, whisk egg, milk, white granulated sugar, vanilla extract, and melted butter together until smooth.
Add flour, baking powder, and salt and whisk until completely incorporated.
Let the batter stand for about 10 minutes before adding it to the berries.
Wash berries first and let them dry.
Combine berries with sugar, lemon juice, and flour in a bowl. Mix well and then spread the mixture evenly in the prepared baking dish.
Drop small spoonfuls of batter all over the berries, make sure that there are even amounts throughout.
Bake for 35 minutes, until the top is beautifully golden-brown.
Enjoy!
Nutritional Information (per serving):
342 calories, 122mg sodium, 61g carbohydrates, 5g protein, 10g fat (5.5g saturated fat, 0g trans fat, 4.5g unsaturated fat), 42g sugar, 5g fibre
This recipe was curated and approved by Emma Minden, Registered Dietitian, Wholesome Kids Catering.