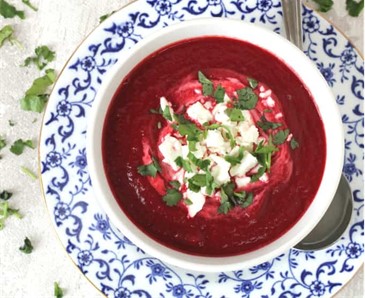 Nothing "beets" a steaming bowl of soup in this cold weather. That beautiful and vibrant pink colour will definitely catch your kids' attention. Winter is the best season to enjoy root vegetables like beetroot and carrots as they are at their sweetest in the cold. They are also rich in antioxidant, fibre, vitamin A and C, and many other nutrients. Turning vegetables into soups is one of the best ways to increase your kids' vegetable intake.
Yield: 4 Servings
Ingredients
4 Beets, Medium
2 Carrots, Medium
1 Potato, Medium
½ Tbsp Olive Oil
1 White Onion, Chopped
2 Garlic Cloves, Crushed
1 L Vegetable Stock, No Salt Added
1 Tbsp Tomato Puree
2 Bay Leaves
½ Tsp Dry Thyme
Salt and Pepper to Taste
2 Tbsp Sour Cream
½ Cup Feta Cheese
1 Tbsp Parsley
Instructions
Trim, peel and chop beetroots, carrots, and potato into similar size chunks.
Heat olive oil in a large saucepan over medium heat. Add onion and cook until softened. Add garlic and cook for another minute. Add beetroots, carrots, and potatoes and cook for 3 more minutes, stirring occasionally.
Stir in vegetable stock, tomato puree, bay leaves and thyme. Bring to a boil, then reduce the heat and simmer until the vegetables have cooked through, about 20 minutes.
Blend the soup until smooth. Season to taste.
Top with sour cream, feta cheese and parsley.
Nutritional Information (per serving)
214 calories, 33g carbohydrates (6g fibre, 18g sugar), 7g protein, 7g fat (3.5g saturated, 0g trans, 3.5g unsaturated), 399mg sodium
Recipe adapted from My Fussy Eater and approved by Chloe Cheng, Registered Dietitian, Wholesome Kids Catering.