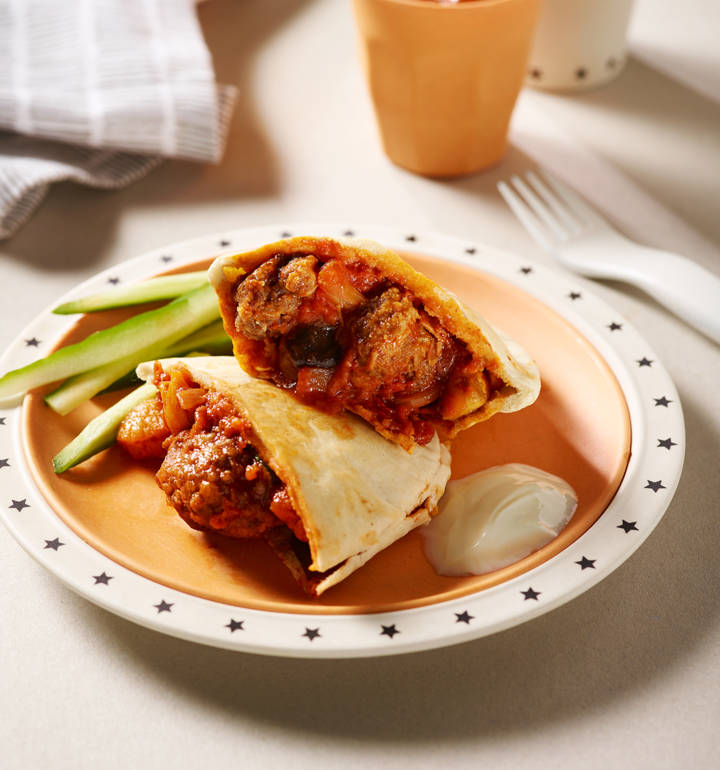 Beef and bean meatballs in tomato sauce
Happy Nutrition Month! Enjoying more plant-based foods helps protect the planet, saves money, and improves health.
Start introducing plant foods gradually in kid-friendly meals. These meatballs are made with a combination of beef and beans which gives a similar taste and texture to regular meatballs. Serve them with pasta or bread and your kid will surely gobble it up.
Yield: 6 servings
Ingredients
For Meatballs
398 mL Canned Butter Beans or Cannellini Beans, Rinsed and Drained
500g Lean Ground Beef
50g Breadcrumbs
1 Large Egg
2 Garlic Cloves, Crushed
1 Tsp Ground Cumin
½ Tsp Ground Cinnamon
½ Tsp Salt
½ Tsp Pepper
For Sauce
2 Tbsp Olive Oil
1 Red Onion, Finely Chopped
2 Large Garlic cloves, Crushed
796 mL Canned Diced Tomatoes (No Salt Added)
1 Eggplant, cut into 1cm dice
30g dried apricots, diced
1 Tsp Ground Cumin
½ Tsp Ground Cinnamon
Salt and Pepper to taste
Instructions
Preheat the oven to 400°F.
Puree drained beans in a food processor or with a potato masher.
In a large bowl, mix the beans, beef, breadcrumbs, egg, garlic, spices, and seasonings.
Shape mixture into 30-36 small meatballs and bake on a lightly oiled tray for 20 minutes or until starting to brown.
To make the sauce, heat the oil in a large saucepan and cook the onion and garlic over medium heat for 2-3 minutes.
Add the diced tomatoes, diced eggplant, apricots, and 300 mL water. Bring it to a boil, then reduce the heat and simmer, stirring occasionally, until the eggplant is soft and the sauce has started to thicken, about 20 minutes.
Add the cooked meatballs and seasonings into the sauce. Simmer, covered, for 10 minutes and then uncovered, for an additional 10 minutes.
Nutritional Information (per serving)
523 calories, 59g carbohydrates (17g fiber, 11g sugar), 39g protein, 14g fat (4g saturated, 0g trans, 10g unsaturated), 427mg sodium
Recipe adapted from Sainsbury's magazine by Rebecca Woollard and approved by Chloe Cheng, Registered Dietitian, Wholesome Kids Catering.