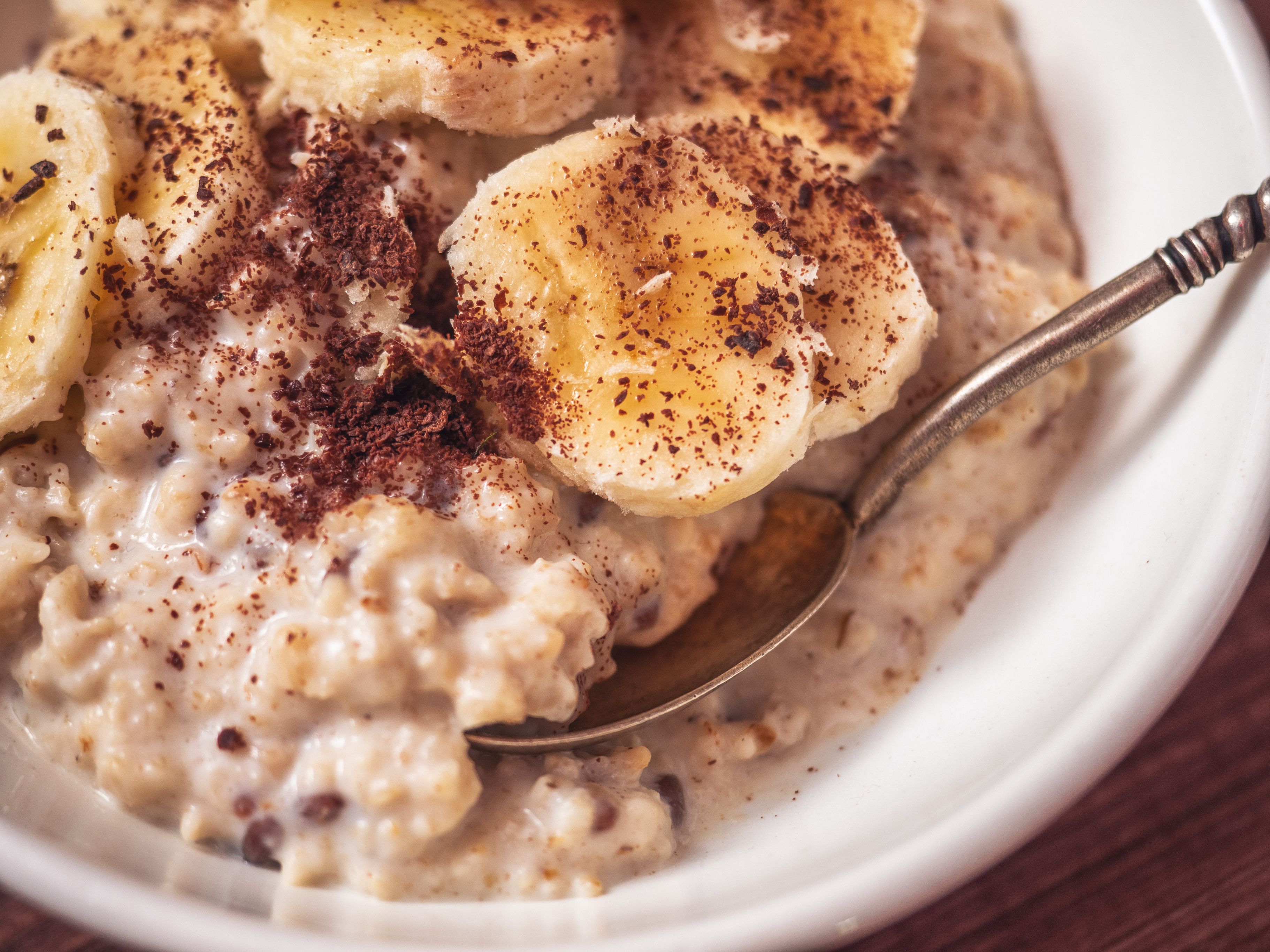 Oatmeal is a healthy, whole grain that kids should be eating and there are so many different ways to flavor it!  This quick-and-easy Banana Chocolate Oatmeal is perfect for a cozy breakfast or use the option below to bake it for a healthy snack throughout the week!
Making the oatmeal is simple! Just mash a ripe banana into the pan, add the rest of the ingredients, and let it simmer until everything is absorbed to your preferred thickness.
Ingredients:
Oatmeal: Try steel cut oats, rolled oats, quick oats, or instant oats and cook to the package instructions.
Mashed ripe banana(s)
Milk (or milk substitute)

1

 

tablespoon Cocoa Powder (optional)
Tip:  While the oats are simmering away, make caramelized bananas by frying some banana slices in a little bit of coconut oil or use some maple syrup to help the bananas brown and  get extra caramelized.
Base Flavours:  There are so many delicious ways to flavour oatmeal!  There is always the industry standard, brown sugar. But there is also honey, maple syrup, mashed bananas, cocao powder, pumpkin, and peanut or nut butter.
Toppings:  You can change up the ingredients with what you have on hand!  Try strawberries, raspberries, blueberries, sliced bananas, apples, or peaches, cinnamon, raisins or cranberries, coconut, pumpkin seeds, milk, or nuts like almonds, pecans, or walnuts.
Banana Oatmeal Bake with Cocoa
Ingredients:
2 cup

s oats

1 1/2 teaspoons ground cinnamon

1/2 teaspoon

 baking soda

1/2 

teaspoon

salt

1 egg 

3

mashed bananas (use ripe bananas for more sweetness!)

1-3/4 cup

s milk (or milk substitute)

1 teaspoon vanilla extract 

3 tablespoons cocoa

1-1/2 teaspoons melted butter

1 tablespoon sugar

1/2 cup

chopped nuts (optional)
Directions:
Pre-heat oven to 375ºF.
Grease a baking dish and set aside.
In a bowl combine all of the ingredients.
Stir well until combined and pour the batter into the baking dish.
Bake in the oven for 35-40 minutes or until center is cooked through.
Remove from oven and let cool before serving.
Nutrition Fact: Oats are rich in carbs and fiber, but also higher in protein and fat than most other grains. They are very high in many vitamins and minerals.