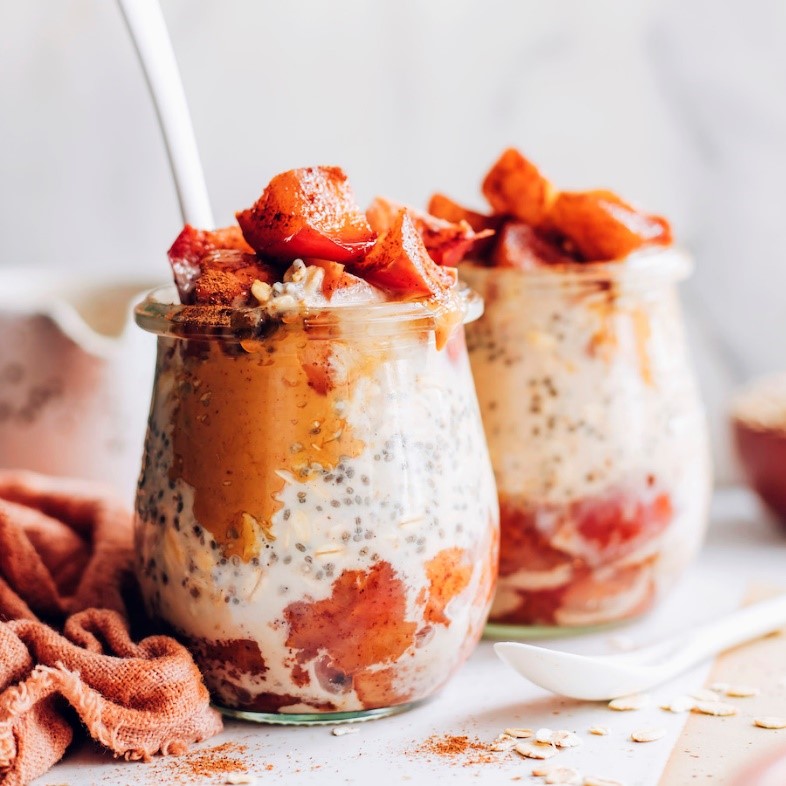 It's apple season! Let's transform your classic apple pie into a fiber-rich, nourishing breakfast. Overnight oats are quick and easy to make and the perfect meal prep for busy mornings. Enjoy them chilled or warm them up in the microwave.
Yield: 2 Jars
Ingredients
Apple Filling
1 Small Apple, cut into small bite-size pieces
½ Tsp Ground Cinnamon
1 Tsp Lemon Juice
1 Tbsp Maple Syrup
1 Pinch Sea Salt
Overnight Oats
¾ Cup Cow's Milk or Dairy-Free Alternatives
1 Tbsp Chia Seeds
½ Tsp Ground Cinnamon
1 Tsp Vanilla Extract
½ Cup Rolled Oats
Instructions
In a small saucepan, mix chopped apples, cinnamon, lemon juice, maple syrup, and salt.
Turn the heat on low and cover. Cook, stirring occasionally, for about 10 minutes or until the apples are soft and tender.
Remove the lid and turn the heat up to medium. Cook for another 2-3 minutes, stirring constantly, until the mixture thickens up.
In a small bowl, mix together milk, chia seeds, cinnamon, and vanilla. Stir in the oats until well combined.
In two small mason jars, place about a quarter of the cooked apple mixture into the bottom of each container. Then, divide the oat mixture equally into each jar and top them up with the remaining apple filling.
Place in the refrigerator overnight.
Nutritional Information (per jar)
230 calories, 39g carbohydrates (6g fibre, 19g sugar), 8g protein, 5.0g fat (1.5g saturated, 0g trans, 3.5g unsaturated), 127mg sodium
Recipe adapted from Minimalist Baker and approved by Chloe Cheng, Registered Dietitian, Wholesome Kids Catering.