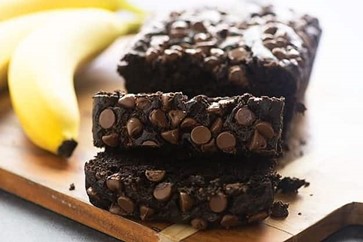 In the spirit of Allergy Awareness Month, we would like to share this allergy-friendly recipe to inspire more creative recipe modifications so that kids with food allergies can enjoy the same yummy treats as everyone else!
Yield: 1 Loaf (12 Slices)
Ingredients
1 ½ Cup Chickpea Flour, Sifted
½ Cup Tapioca Flour, Sifted
1 ½ Tsp Xanthan Gum
¼ Cup Cocoa Powder, Sifted
1 Tsp Baking Powder (wheat-free)
1 Tsp Baking Soda
1 Pinch Iodized Salt
½ Cup Brown Sugar
3 Overripe Bananas, Mashed
⅓ Cup Canola Oil
1 Cup Fortified Rice Beverage
½ Tbsp Vanilla Extract
1 Cup Semi-Sweet Chocolate Chips (milk and soy free)
Instructions
Preheat oven to 350 degrees F and grease a non-stick loaf pan.
In a medium bowl, whisk together flour, xanthan gum, cocoa powder, baking powder, baking soda, and salt. Set aside.
In a large bowl, stir brown sugar, banana, oil, rice beverage, and vanilla extract until smooth.
Slowly incorporate the flour mixture into the wet mixture until just combined, don't overmix.
Fold in ¾ cup of chocolate chips and pour the batter into the prepared pan. Sprinkle the remaining ¼ cup of chocolate chips over the top of the bread.
Bake for 60 minutes or a toothpick inserted into the center of the bread comes out clean.
Remove from oven and cool in the pan for 10 minutes. Transfer the loaf onto a cooling rack until it is cooled completely.
Nutritional Information (per slice)
270 calories, 38g carbohydrates (5g fibre, 20g sugar), 5g protein, 14g fat (4.5g saturated, 0g trans, 9.5g unsaturated), 157mg sodium
Recipe adapted from Alex and Thea and approved by Chloe Cheng, Registered Dietitian, Wholesome Kids Catering.