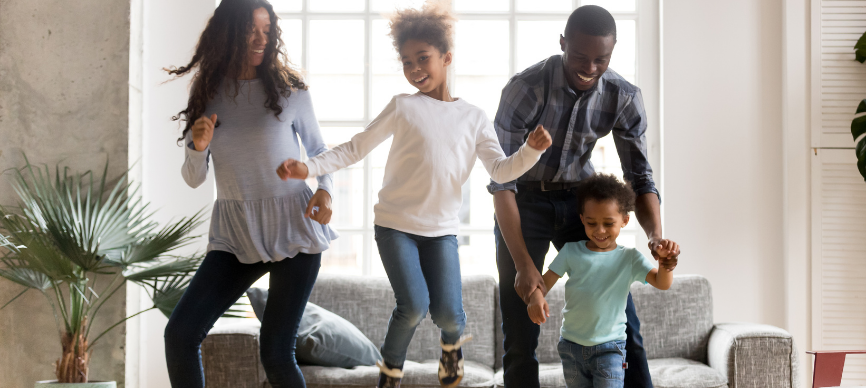 So, you have a full house at home…again. With new lockdown restrictions in Ontario and kids moving to remote learning, we, as parents are faced with this same dilemma. How do I keep up with everyone's schedule and make sure we all stay happy and healthy?
Now more than ever, physical activity is important for both parents and kids! It helps with physical health, mental health, sleep and the immune system.
As a parent of two young kids, I'm happy to say you don't always need structured sports or activities to get in some exercise.  Here are a few tips to get everyone up and moving.
Every little thing counts
You don't have to play traditional sports or focus on a timed workout, just get them to skip, dance, hula hoop or simply toss a ball back and forth.
Try to schedule a quick walk during a break, or do a stretch together, that way you all get in a little movement.
For kids missing their regular sports and activities, the warmer weather is a great time to get outside with your sticks and balls and get in some extra practice.
Make time to move
Try to plan regular physical activity time during the day just as they would have in school. If your kids are old enough to follow a class itinerary, make sure you add  'phys-Ed'   time into the day. This is also good for helping them take responsibility over their own health.
According to the Canadian Physical Activity Guidelines (Participaction), kids aged 5-17 need 60 minutes a day of moderate to vigorous physical activity. If you break it up into smaller bits throughout the day, it's less stressful and you will hit your goal in no time.
Be a Role model
Remember to lead by example. This means taking a well-deserved break during your workday (working from home or not). With the weather slowly improving in Ontario, getting outside for some movement is one of best things we can do for our families' health. Remember to stay safe and continue to follow COVID rules and guidelines.
And finally, have fun! Use these tips to get your full house, happy, healthy and moving and please don't stress parents, we have enough to worry about and you are doing a great job!
Take an extra break for yourself and order our Wholesome Go mini meals – a great idea for lunch, or our family meals and kits for a relaxing family night in – no prep, just heat & enjoy!
Theresa, Marketing Manager, Wholesome Kids and mother of two.