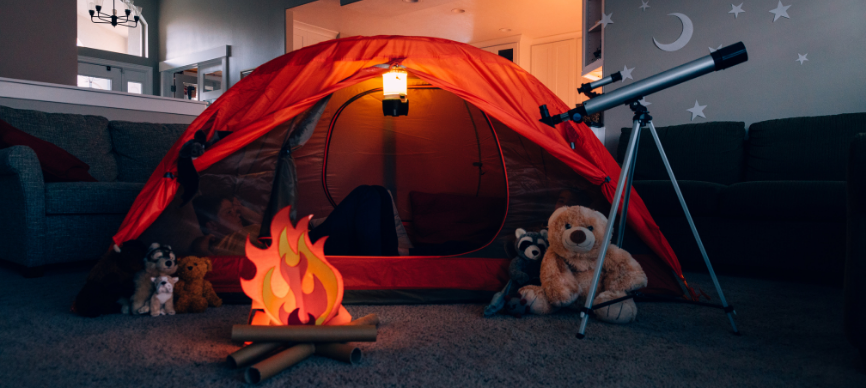 We're still in the heart of winter here in Ontario. While we stay at home during the pandemic, we need fresh ideas on how to keep the kids entertained, ourselves sane, and memories along the way.
I have put together 5 ideas on how you can safely enjoy the weekend both indoors and out whether you live in a small space or large or have access to private outdoor space or not.
This list of activities to do with the kids will not only help pass the time pleasurably but can teach everybody something new, help develop skills, and allow you to create an environment of emotional health, bonding, and self-discovery.
1. Take the outdoors, indoors
Let's create a campsite in our living room. You can pop up a real tent or just build a fort with bedsheets or blanket.  Prepare some finger foods and add the soundtrack (you can find on YouTube hours and hours of streams murmuring, nature sounds, or birds chirping). Or make a family room picnic and pack a lunch or dinner into a cooler and eat on the floor on a blanket.
2. Treasure hunt
Write the clues on pieces of paper, hide them in the house/apartment in various places and send the kids from one room to the next in the search for the great prize. A good indoor treasure hunt should end with the discovery of an exciting "treasure", maybe it's a new board game to play or some sweet treats.
3. Get crafty
This doesn't have to be complicated and you can find online tutorials for everything from homemade slime to DIY snow globes. You don't need to go out and purchase anything, just use household items from the recycling bin.
4.Experiment with the cold
Yes, it's cold out Ontario, really cold but let's get creative and show the kids what kind of magic can happen when it's below 0. Blow some bubbles and watch them freeze. Fill up water balloons with food colouring, leave them outside overnight and cut the rubber off in the morning to reveal colourful ice globes.
5. Yoga time
Do a family yoga class together. There are all kinds of great channels on YouTube, we recommend Cosmic Kids Yoga with all kinds of classes featuring holidays and even your kids favourite show and movie characters.
Whatever you choose to do I hope you will make warm memories together.
Stay healthy and remember that those special moments don't have to be big or overly complicated and if you leave room for them, they can happen everyday.
Theresa Laird (Marketing Manager and mother of 2 little ones)